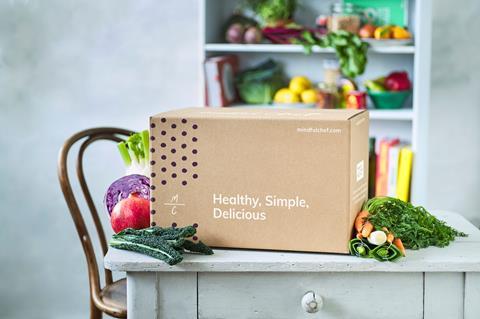 Top story
Mindful Chef is seeking £25m in a new fundraising round as private equity investors, blue-chip conglomerates and retailers clamour to own a piece of the fast-growing recipe box brand.
The direct-to-consumer business, which is being advised on the process by KPMG, expects to secure the cash for a minority stake by the summer, said CEO Tim Lee.
Mindful Chef has grown rapidly since Giles Humphries, Myles Hopper and Rob Grieg-Gran formed the business in 2015, with the latest annualised sales up 150% to £40m.
However, Lee, who joined as CEO in 2018, said its sales run rate put revenues at about £75m.
Sales have soared by 300% during the coronavirus outbreak, with the business launching a one-off care box service guaranteed to arrive by the next day.
The latest fundraising round follows a £6m investment from PE house Piper in January 2019 and earlier crowdfunding campaigns raising more than £2m, with sports stars Andy Murray and Victoria Pendleton among early investors.
Mindful Chef will use the £25m injection to continue to scale the business quickly, improve the customer experience by investing in technology and operations, raise brand awareness and expand into new categories and channels, as well as exploring opportunities overseas.
Read more later this morning at: https://www.thegrocer.co.uk/finance
Morning update
Struggling shopping centres owner Intu has appointed accountancy firms veteran David Hargrave as non-executive director with immediate effect.
Hargrave, who spent 33 years in transaction business within the Big4 accounting firms, will also take on the role of chief restructuring oficer while Intu works through its strategy to fix the balance sheet.
Chairman John Strachan said: "I am delighted to welcome David to the board of Intu. He brings a wealth of highly relevant experience from business turnarounds and restructuring. This will be of significant benefit as we work towards fixing the balance sheet and we look forward to his contribution to the board's deliberations."
The FTSE 100 started the day down 2% at 5,785.42pts.
The index was mostly falling, with British American Tobacco (BATS) down 3.9% at 2,962p, FeverTree (FEVR) down 3.1% at 1,685.50p, Greggs (GRG) down 3.9% at 1,760p and SSP Group (SSPG) down 4% at 269.20p.
Among the very few risers, Premier Foods (PFD) opened up 0.7% at 46p and Britvic (BVIC) up 0.1% at 733.50p.
Yesterday in the City
The FTSE 100 closed down 3.5% at 5,901.21pts slipping once again below the 6,000pts mark.
In a mostly red-coloured index, SSP Group (SSPG) closed down 8.1% at 280.40p, Marks & Spencer (MKS) down 6.9% at 92.10p, Sainsbury's (SBRY) down 4.5% at 198.10p, Coca Cola HBC (CCH) down 4% at 2,05p.
Morrisons (MRW) closed 2.7% lower at 183p and Associated British Foods (ABF) was down 3.1% at 1,892.50p.
Among the risers, Reckitt Benkiser (RB) closed 3.6% higher at 6,630p, FeverTree (FEVR) up 2% at 1,740p and Finsbury Food Group (FIF) up 2.5% at 61.50p.