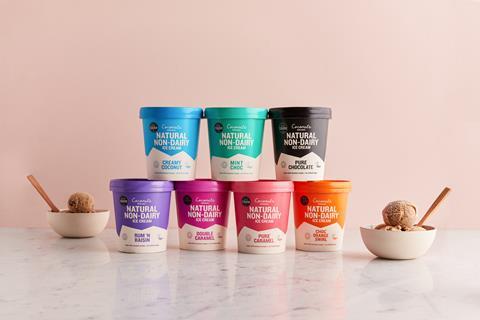 Months after successfully raising over £400k on Seedrs, Coconuts Organic has returned to the platform, seeking funds to grow exports and develop new products.
The non-dairy ice cream maker is now targeting £160k in exchange for a 6.3% stake in the business, valued at £2.4m.
Just over a week since launch, the campaign is already 72%-funded, with 166 investors pledging over £114k.
The plan is to "keep the campaign open into overfunding" up to a maximum of £400k, founder and CEO Cecily Mills told The Grocer. This would replicate the success of its January crowdfunding campaign, which was overfunded by about 300% to £412k.
Coconuts Organic, which rebranded in June from Coconuts Naturally with a new look, plans to use the investment for marketing, building its sales team and securing working capital to keep up with increased demand following a "major listing" into 600 Tesco stores.
The five-year-old company is also planning further NPD, including new flavours, formats and sustainable packaging options.
"2018 has been our scale-up year, now we have launched into Tesco and we are settling into our growth," Mills added. "We have an exciting period ahead."
Developing exports by launching into China next spring and Saudi Arabia by the end of the year is another "key" objective for the brand, which is already available in Dubai. There were "huge opportunities" for dairy-free ice cream in those markets, said Mills.
"Ice cream is very seasonal, so the best way we can mitigate this is to spread our volume across the rest of the world," she added.
Currently stocked by Tesco and Ocado in the UK, Coconuts Organic plans to expand into the big four, Planet Organic, Whole Foods Market and into foodservice.
On the back of the new listing with Tesco, the brand expects revenues for the year to March 2020 to rise over 550% to £636k from £97k.
By 2024, sales are forecast to reach £4.6m.
In 2018, Coconuts Organic secured a six-figure private investment after walking away from financial backing secured on Dragons' Den.