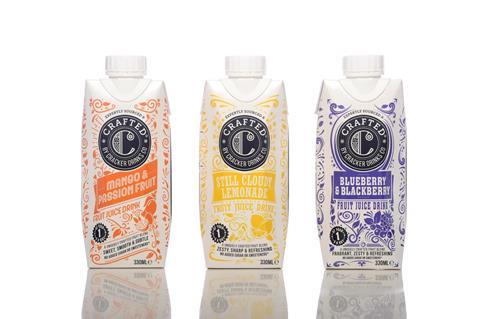 Craft soft drink business Cracker Drinks Co has smashed its £250k crowdfunding target within six hours of launching, thanks to help from the government's coronavirus SME growth scheme.
Cracker took advantage of The Future Fund, launched in May, which offers convertible loans of up to £5m to innovative and high-growth British businesses to help them through the pandemic.
It is now overfunding the Seedrs pitch, with more than £266k currently pledged including £125k from the government. The Future Fund will match private investors pound for pound.
The drinks maker, which owns the Cracker Drinks, Crafted and Newton's Appl Fizzics brands, plans to use the cash to expand its reach in the on-trade and foodservice, develop its product range and explore export markets.
Sales are split evenly between retail and hospitality, with almost 2,000 retail listings in Asda, Morrisons, Sainsbury's, Tesco, Waitrose, Holland & Barrett, Booths and Whole Foods Market.
The on-trade business, supplying 4,500 pubs with Greene King, Marstons and Hall & Woodhouse, came to a complete halt as the industry shutdown during the Covid-19 lockdown.
CEO Chris Banks said the retail side continued to trade "very well", especially via home delivery, and business in the on-trade had started to return as hospitality reopens.
"We believe Covid-19 will lead more people to be discerning about the quality and health implications of what they buy," said CEO Chris Banks. he added. "Our established drinks range is well-positioned to thrive in this 'new normal'."
Banks said the continued and growing public interest in craft brands and health-conscious consumers looking to reduce alcohol intake helped the Seedrs campaign hit its target quickly.
Startups have completed 14 campaigns on Seedrs since May using the Future Fund, with three in the food and drink industry: Gunna, Stem + Glory and Fresh Range.