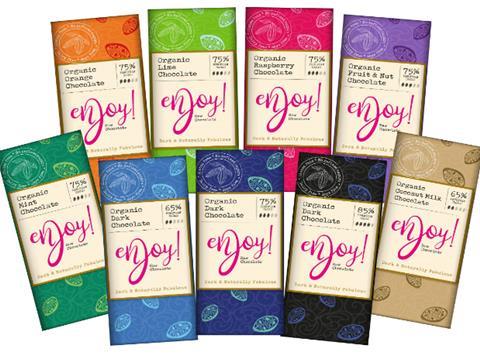 Confectionery startup Enjoy Natural Foods is seeking £640,000 as it aims to upgrade its production facilities and grow sales of its premium organic chocolate tenfold over the next four years.
The brand has kicked off a crowdfunding campaign on Growthdeck to attract investment in exchange for 46.4% of equity. At the time of writing, it had raised £147,000 (22%) from three investors. The closing date of the funding push is yet to be confirmed.
Founded by husband and wife team Chris and Stephanie Crutchley, Enjoy Natural launched its first vegan-friendly products in November 2014. Its portfolio now comprises nine chocolate bars, three chocolate boxes and a hot chocolate drink mix – all made from raw cacao beans and sweetened with coconut blossom sugar. Planned additions to the range include fudge, wafer thins, truffles and brownies.
Enjoy Natural expects to this year generate £36.7k in UK sales, which it projects will grow to almost £4m by 2022.
It recently secured a deal with Tree of Life, making the UK's largest health food wholesaler the exclusive UK distributor of Enjoy Natural confectionery. The partnership put the brand "in a great position to achieve strong sales growth" said Chris Crutchley. "Consumers will start to realise that healthier raw chocolate can really taste good."