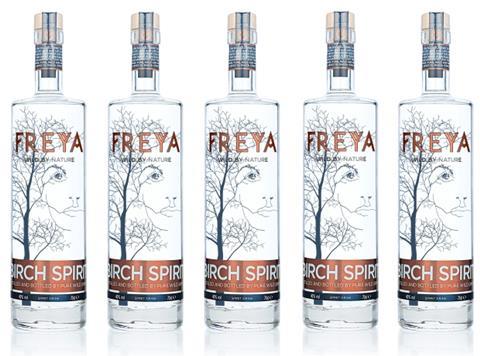 Freya Birch Spirit, which claims to be the world's first spirit made from birch sap, is looking to raise £750k to fuel its expansion into posh retailers, bars and restaurants.
The brand's owner, Pure Wild Spirits, has launched a campaign with online investment platform Growthdeck, offering up 18.6% of its equity with an enterprise value of circa £20m. At the time of writing it had raised £193k from one investor, with investments eligible for tax relief under the Enterprise Investment Scheme.
According to the brand's financials, sales for the year ending 31 December 2017 rang in at £32,999, with Pure Wild Spirits predicting its turnover would grow to £16m by 2023.
The business would tap five key routes to market encompassing on and off-trade, said Pure Wild Spirits, but with an increasing focus on grocery planned as the brand developed. Freya had already gained "strong" traction in posh bars in the UK's cities, with listings upcoming in Italy and New York, it added.
It is currently listed in online and premium retailers Borough Wines, Master of Malt and The Whisky Exchange, with "discussions with major UK grocery stores" underway and initial listings anticipated for April 2018.
The launch of the campaign marked a "very exciting time" for the business, said Pure Wild Spirits founder David Wallwork. "Targeting independent premium bars and building relationships with the most creative mixologists, working with the best bar groups, and trialling premium retail distribution are all key elements of our strategy to manage sales and promote our brand in the UK and internationally."
A closing date for the drive is yet to be confirmed.