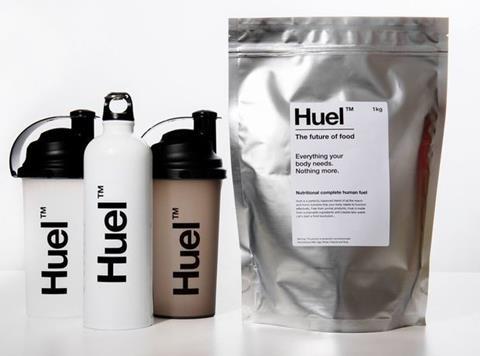 Manufacturer of 'futuristic' powdered food, Huel, has secured £20m in VC funding to aid its expansion in the US and Europe.
The UK direct-to-consumer business, which produces "nutritionally complete" food powder that can be used as a meal replacement, was founded in 2015 by Julian Hearn and nutritionist James Collier.
The business has been largely self-funded, but has now received the hefty investment from the funding round led by Venture Capital firm Highland Europe.
Companies House filings for the investment show it values the rapidly-growing business at around £170m.
Huel plans to use the funding to accelerate its expansion into new territories and support growth in the US and Europe.
Last year it reported sales worth £14m and co-founder Hearn, who has previously said he hopes to make it a £1bn company, says he expects to hit over £45m in sales this year.
The brand, a portmanteau of 'human fuel', includes the "recommended balance of protein, carbs, fibre and fats, plus all 26 essential vitamins and minerals" needed daily.
It is the latest product to appeal to time-conscious millennials plumping for quick food replacements. Only last month, US brand Soylent launched in the UK.
"Huel has been profitable since day one and is on track to triple turnover this year," commented Hearn.
"In order to accelerate growth, expand our product portfolio and reach new markets, we decided to take external funding into the company.
"We're excited that Highland Europe shares our vision and is now giving us the means and a wealth of experience to scale Huel into a global leader.
"These developments present a really exciting time for Huel and the 'complete food' category in general. We expect further innovation will follow as a consequence soon."
Huel now has a team of 65 based in the UK, LA and Berlin, and claims to have sold 25 million meals across 80 countries.
Stan Laurent, partner at Highland Europe, said: "We knew that Julian and his team had created a special brand before even meeting them - people around us were raving about Huel.
"It's a textbook example of the next generation of ecommerce businesses; a big mission and brand, innovative products and a superb business model. We're looking forward to helping Julian and his team scale the business across the globe."