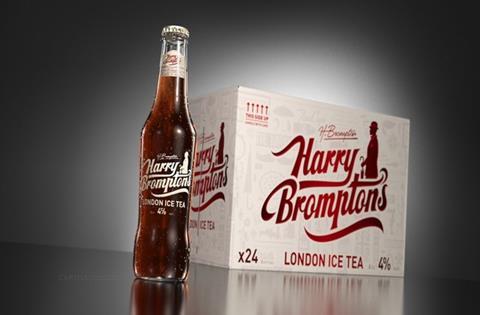 Premium alcoholic ice tea maker Harry Brompton's is hoping to stir up interest in the brand with a £300,000 crowdfunding campaign.
Launched in 2013 by former energy derivatives Ian O'Donohue, the business has already won listings in Waitrose, Sainsbury's, Ocado, Whole Foods and Harrods, selling almost one million bottles of its teas along the way.
The business, which is also launching a range of non-alcoholic ice teas, is also exporting to ten countries, including across Europe and in Canada, Singapore, South Korea and Thailand.
In return for the £300,000 it hopes to raise on Crowdcube, Harry Brompton's is giving away 10.7% of the company, valuing it at more than £3m.
O'Donohue, who claims the brand is the world's first premium alcoholic ice tea, plans to use the cash on marketing, funding larger production runs, supporting overseas trade and new product development.
Harry Brompton's is attempting to secure further UK retailer listings in the coming months, with a trial run currently underway in Majestic Wine. O'Donohue is also heading to the US to pitch to retail giant Target as part of the prize for winning the Virgin Foodpreneur award in 2015.
"We are not just building a new brand we are building a brand new category," O'Donohue said in the crowdfunding pitch. "The world is awash with new craft beers and micro-breweries, faux fruit flavoured ciders, overly sweet or brightly coloured alcopops and small batch gins that no one can remember the name of."
Harry Brompton's alcoholic ice tea is also served in about 200-plus on-trade outlets in the UK, including luxury hotels, Michelin-starred restaurants and in the Virgin Atlantic Clubhouse in Heathrow.
The business expected to be turning over almost £9m by the year ended March 2019, with pre-tax profits edging towards £2m.