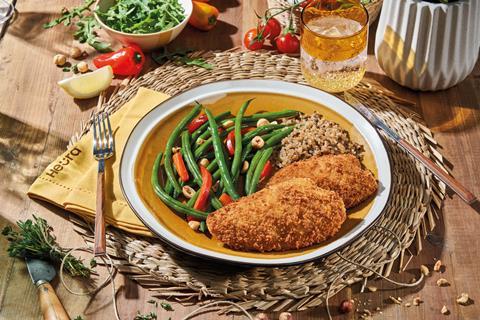 European plant-based food tech brand Heura has smashed a crowdfunding record as it raised more than €3.4m to fuel continued rapid growth and pursue a path to profitability.
The Spanish firm comfortably beat its latest €1m target on the Crowdcube platform, with €2.6m secured in the campaign's first 48 hours.
It claimed to have built the largest crowdfunding community in the plant-based sector in Crowdcube's history, with more than 3,600 investors joining the brand's existing 7,000 'Good Rebels' to support its mission of building a net-positive food system.
Newtree Impact, which invests in disruptive tech companies reshaping the future of the food system, also committed another €1.5m to support Heura's vision to become a "European food tech champion".
Heura has now raised €12m from the crowd over three rounds, with the latest being its final planned crowd raise before the business closes a Series B round later this year.
The group has already raised €20m across the Series B throughout 2022 and 2023.
Scalable vehicle
"We are the last generation that can curb climate change, and Heura is a scalable vehicle for a net-positive impact," said CEO and co-founder Marc Coloma.
"Our supportive community of Good Rebels have played a pivotal role in driving positive change in the food system and shaping a better future."
Heura added it was primed to become the European plant-based leader by 2028, with revenues booming by 80% to €31.4m in 2022 thanks to increased distribution outside its native Spain, including a sixfold increase in the UK.
The brand also reported double-digit year-on-year growth in the first quarter of 2023 and is expecting to turn a profit in Spain this year, and globally by 2025.
Earlier this year, Heura launched its first patent-pending technology, which it claimed generated "never-before-achieved nutritional values without the need for food additives or E-numbers".
In Q3 of this year, Heura aims to incorporate its proprietary tech in the launch of a new line of 100% plant-based deli meats.