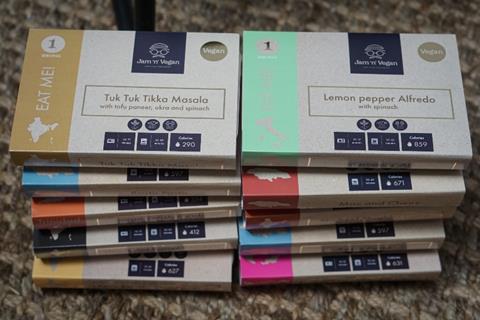 Plant-based ready meal service Jam 'n' Vegan is the latest brand to receive backing from specialist investment house Veg Capital.
The business will use the £200,000 investment to build brand awareness, expand the team around founder Kyle Parchment and open up new channels.
Veg Capital led the round and will take a seat on the Jam 'n' Vegan board.
Parchment, a chef, created the brand after being inspired by his travels around the world.
The range of plant-based ready meals include This is Not Butter Chicken, East African bean stew with jollof rice, and Caribbean Mac n Cheez with jerk crumb, which customers can order as part of a weekly or monthly subscription service.
Awareness of Jam 'n' Vegan has so far spread by word of mouth, with limited marketing. The £200,000 backing from Veg Capital will fund a number of new hires, including a marketing manager, to help reach more customers.
It will also go towards opening up new channels to go alongside the current DTC home delivery service, including retail and foodservice.
Veg Capital managing director Matthew Glover, founder of Veganuary, said: "Kyle has managed to capture a mood with his range. It is a true celebration of our world of wonderful and diverse cultures.
"At Veg Capital we have all been inspired by how Kyle has overcome the odds to build his company from his mum's kitchen to where it is now. We have big visions for the future of Jam 'n' Vegan and are thrilled to be joining this journey."
Parchment added: "I'm so excited to welcome Veg Capital into the Jam Fam and am bursting with ideas to celebrate all the beautiful differences in the world through taste, sound, and vision."
Veg Capital invests primarily in early-stage plant-based companies developing products to help to remove animals from the food system.
Since launching in June 2020, Veg Capital has invested about £20m in more than 30 plant-based companies, including Plant Alternative, Clive's Purely Plants, Mighty Pea, This, Plantifull, Naked Snacks, Planty and One Planet Pizza.