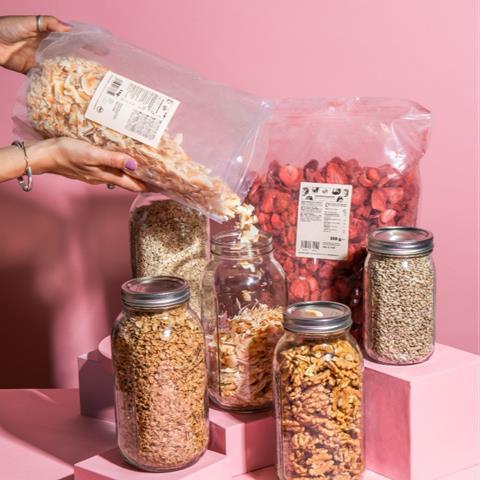 Bulk-selling natural food retailer KoRo has raised €50m (£41.7m) in a funding round to sustain its rapid growth across Europe and the UK.
The business – started in Berlin in 2014 – sells a range of more than 1,000 SKUs across food categories and kitchen appliances direct to consumers.
More than 500,000 customers shopped with KoRo in 2021 as the pandemic changed consumer behaviour and fuelled a drive to online shopping.
It generated revenues of more than €60m (£50m) last year, growing 12-fold in the past three years.
In 2021, KoRo launched in 10 new markets, including Ireland, Sweden, Denmark and Portugal, and now sells DTC in 16 countries across Europe, including the UK.
As part of the investment, KoRo will expand to Greece and the Czech Republic, as well as developing new marketing channels and further expanding the team
The latest funding round was led by venture capital firm HV Capital, with new investors including foodtech specialist Five Season Ventures and global investment platform Partech.
CEO and co-fonder Constantinos Calios said the business planned to expand its product portfolio from 1,250 SKUs to 2,000 by the end of the year.
"We are pleased to have new investors on board who bring valuable long-term industry knowledge and expertise in the food and tech segment, which will help KoRo to become Europe's leading brand for high-quality natural food with transparent supply chains," he added.
"We will use the fresh capital to further accelerate growth both in Europe and internationally, with our fantastic team being the backbone of KoRo's success."
The current range includes a wide variety of long-life, natural and processed foods, such as spreads and nut butters, dried fruits, organic ingredients, snacks and superfoods, as well as kitchen utensils, cooking accessories and hygiene products.
The rise in digital shopping in the UK saw turnover in the country jump from €20,000 between January and July 2020 to €50,000.
A spokeswoman said bestsellers in the UK were 3L organic pure ginger juice, 3L organic pomegranate juice 3L and 600g pea protein strips 600g.