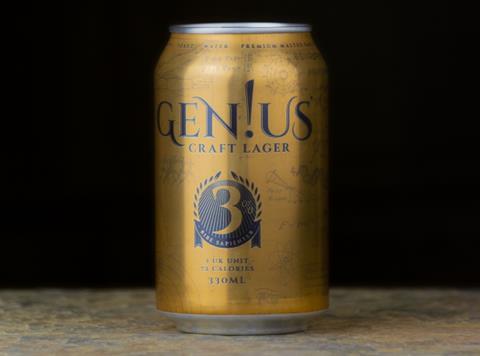 Low-calorie craft lager Genius is seeking investors to help it become "the craft version of Bud Light".
The Scottish brand is looking to raise up to £500k in investment from business angels and private investors to boost its sales and marketing capabilities, and has begun approaching major retail buyers in England as it plans a concerted push into the on and off-trade.
Its core lager, currently available in 330ml cans, is 3% abv and contains 72 calories per can. Bud Light comparatively contains 89 calories per 330ml, while Coors Light contains 102 calories - although Coors Light is not strictly positioned as a low-calorie choice.
"We want to be the UK's number one light craft lager brand," Genius co-founder and creative director Jason Clarke told The Grocer. "Last year was all about getting the blocks in place and launching the brand and 2019 is when we really need to grow. The two big parts of this will be getting listings with the big multiples and getting into bigger accounts in the on-trade.
"We are already stocked in [Scottish retail co-operative] Scotmid, which was a very early adopter of us, but our big market is England. We think we can be really strong in London and the south east, given our health credentials, and we currently have samples with all the buyers of all the main multiples as they approach their next product reviews."
The brand would not be releasing any new products or seeking to move into other beer styles, he stressed. "We want to focus all our attention on our one proposition. Lots of small start-up craft brands get so excited about brewing beer that they make six different ones and dilute the brand. We want to do the opposite."
Angel investment, rather than crowdfunding as many other craft brewers have opted for over the past years, was "the best avenue in terms of simplicity and speed", he said. "And we're not quite big enough just yet to attract the big private equity guys. That's another chapter down the line."