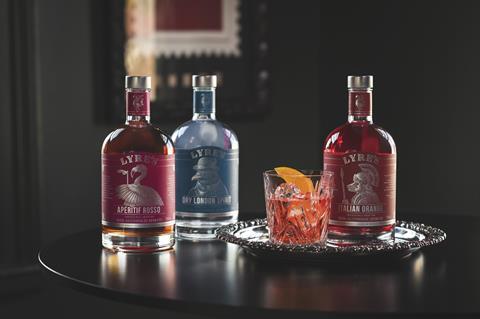 Alcohol-free spirits brand Lyre's has closed its largest funding round to date as the low & no drinks category continues to soar in popularity.
The £20m fundraising values the business at £270m, up from £100m after a smaller £5m round in May. Lyre's said it was on target to become the fastest indie drinks group to achieve unicorn status, which would value it at $1bn (£741m).
Since Mark Livings founded the company in 2019, Lyre's has raised more than £35m across four funding rounds.
"The pace of growth we're seeing is exceptional," Livings said.
"We sold our first bottle in 2019 and today we're selling one at least every 30 seconds. On our current trajectory, Lyre's is set to become the fastest independent beverage brand to reach unicorn status."
Lyre's told The Grocer part of the £20m funding would go towards expanding production at its UK sites, in a move expected to create 25 jobs. It also plans to up its investment in marketing in the UK, with a particular focus on above-the-line advertising.
A spokeswoman said the brand was outperforming zero-alcohol competitors in on-trade distribution, with over 1,000 outlets stocking its range, including The Ivy Group, Loungers and Be At One. The business is also aiming to widen distribution in the off-trade amid increasing demand from the supermarkets for its products, including its recently launched Classico prosecco alternative, which sold out thanks ot high demand.
Lyre's is now available in more than 60 countries, securing partnerships with global spirits distributors and listings with about 50 major retailers, putting the business on track to generate annualised revenues of £50m by December.
The latest funding round was led by new investor D Squared Capital, alongside existing backer Morgan Creek Capital Management, while other early investors – DLF Venture, VRD Ventures, and Maropost Ventures – increased their positions.
Lyre's will deploy the cash to continue marketing its expanding range and significantly increase its headcount, creating more than 50 jobs in sales & marketing, production, logistics, finance and e-commerce.
The business will also continue to invest with several manufacturing partners to expand production capacity across its facilities in the UK, Germany, Australia, and the US as demand for non-alcoholic spirits continues to grow.
"Millennials and older gen Zs are drinking less alcohol than any generation before them, but the mindful drinking movement transcends generations and cultural borders," Livings added.
"We're not only growing our business – we're expanding the whole category, entering territories like the Middle East and Far East virtually uncontested."
D Squared Capital MD Daniel Grossman said the rapidly growing low & no alcohol beverage market was one of the fastest-growing markets in the F&B industry, showing similar characteristics to plant-based products.
"Lyre's leading product, brand and range of award-winning SKUs have proven that they are the industry leader, and we are excited to be backing the best-in-class company," he added.
Lyre's 14-strong range was created to replicate the taste of classic spirits, including American Malt, Italian Orange, Dry London, Italian Spritz, Amaretti and Coffee Originale, which the business claimed could be used to make 90% of the world's bestselling cocktails.
Earlier this month, Lyre's expanded into wine alternatives with a sparkling, non-alcoholic prosecco-style drink.
In 2021, the business has launched in 20 new countries, including in the Middle East and China, added four new e-commerce stores and 20 major retail listings, manufactured its one millionth bottle and developed six new product variations, comprising Pink London Spirit and five ready-to-drink beverages.
It comes as consumers continue to flock to the low & no alcohol category, with UK grocery sales up 51% to £217.1m in the past year, according to The Grocer's latest report on the sector [Kantar 52 w/e 21 February 2021].