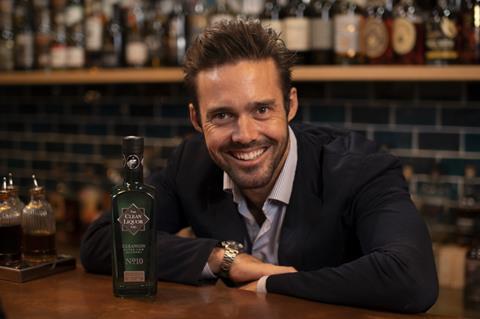 Low and no alcohol spirits brand The Clean Liquor Company has secured US$2m (£1.6m) in a fundraising round led by Snapchat and Goop investor Lightspeed Venture Partners.
Since former Made in Chelsea star Spencer Matthews launch the company in November The Clean Liquor Company has grown distribution to 496 Sainsbury's stores, and is available across a number of Caprice Holdings venues.
It is currently focusing on international expansion with plans to launch in India, Singapore, Australia and the US.
It launched with its first product CleanGin and the next product in the pipeline is a rum, which is currently "receiving finishing touches from the master distiller".
Lightspeed wants the company to become "the next Goop of the no/low alcohol category".
Nicole Quinn, partner at Lightspeed Venture Partners, said: "I look for businesses that are doing things differently, but that are not just disruptive but rather represent a generational behavioural shift.
"We want to build a business for the long run. And if that business is a celebrity's business, the most important thing is true authenticity."
Spencer Matthews, founder of The Clean Liquor Company, added: "The Clean Liquor Company was born out of a passion to make no and low alcohol products positive. Rather than non-alcoholic, non-flavour, non-fun, we wanted to create something that answered the demand for quality and flavour but without the negative effects of alcohol."
On-trade sales of no and low alcohol have risen by 48% in the UK in the last 12 months and it's estimated to be a £60m-a-year sector.
The Clean Liquor Company plans to create a globally recognised portfolio of low alcohol drinks to "answer that demand for quality and flavour without the alcohol".
William Reed – the publisher of The Grocer – has launched a new exhibition exclusively for the low & no category. For more information, visit low2nobev.com.