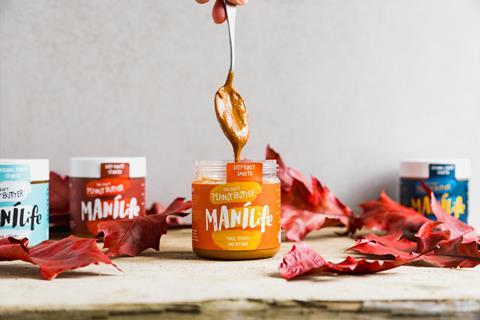 ManiLife has smashed its crowdfunding target to fund NPD and a new "massive" retail launch this summer, as it aims to become the UK's leading peanut butter brand.
The craft brand, made from peanuts sourced from a single Argentinean farm, took to Seedrs to raise £250k, offering a 7.26% stake for a valuation of £3.2m.
Within two days ManiLife hit its initial target, raising £264k from 175 investors. The brand is now willing to overfund up to £350k, founder Stuart Macdonald told The Grocer.
"I don't want to sound arrogant, but it was never in doubt that we would hit our target," he added. "We had some funding already pledged but I am positively surprised on how quick we raised the rest."
ManiLife has a successful track record in raising funds, having hit the targets of two previous campaigns in 2017 and 2018 within 24 hours. The current campaign took the total raised by the company so far to around £1.2m.
The latest cash boost will fund the development and imminent launch of a new product range, ManiLife On the Go, which will initially consist of cocoa-dusted peanuts to be rolled out at till points.
"The goal for this product is to have it in 1,000 cafés by the end of the year," Macdonald said.
Further funds will cover the costs associated with a new "major" grocery listing scheduled for the upcoming summer. ManiLife is currently stocked across 270 Waitrose stores as well as Holland & Barrett, Ocado and Amazon, among others.
ManiLife's mini pots are also available through Gousto, HelloFresh and Mindful Chef's recipe boxes, with over 1.1 million having been sold so far.
Furthermore, the brand is planning to upgrade its packaging and increase its sales director working days, as well as "putting the finishing touches on making our supply chain more efficient, which will make the business profitable", Macdonald added.
ManiLife has so far doubled sales each year since inception, achieving revenues of £545k in the year to March 2019. It now forecasts £1.2m turnover for financial 2020 with break-even expected in October 2020.
"There are certain parts of the business which are growing unbelievably quick and, if what we have planned comes in, we should triple the business next year," Macdonald added.