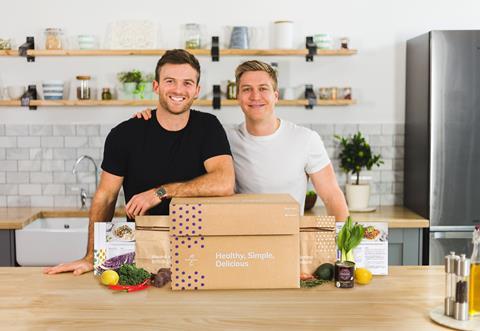 Healthy recipe box supplier Mindful Chef has secured £6m in private equity funding to underpin its ambitious growth plans.
PE house Piper has backed the direct-to-consumer brand amid of period of significant investment for UK meal kit brands.
The Wandsworth-based business was launched by Rob Grieg-Gran, Giles Humphries and Myles Hopper in 2015 to make healthy eating easier for time-conscious consumers.
Mindful Chef has experienced rapid growth, including a 178% rise in sales over the past year, to amass annualised sales of £10m, the founders said.
Tim Lee, previously head of food and online strategy at Marks & Spencer, joined the business as CEO in 2018.
"With 2018 ending on a high, this major investment from Piper signifies the great confidence they have in our business, and will help support our established marketing programme as well as our exciting NPD pipeline," said Tim Lee.
"The global recipe box market is ripe for distribution and we believe that Mindful Chef's proposition ticks all the boxes for people who want to live healthier lives."
Rory Gibbs, Piper's Investment Director who led the deal, said: "Mindful Chef is well placed to continue accelerating the growth of the recipe box market with its highly differentiated health focused positioning.
"We are backing a young, dynamic team who are passionate about making healthy eating easier for their customers. We are excited to be joining them and helping them to realise their ambitions."
The meal kit business joins a number of grocery brands in Piper's investment portfolio, including Forthglade pet food and Propercorn.
Mindful Chef was advised on the deal by Cavendish Corporate Finance.
"Mindful Chef is at the forefront of three important trends in the UK food sector: bypassing the old-economy grocers to engage with and deliver directly to consumers; cutting down waste by delivering only what is needed for each meal; and offering healthier, free-from and vegan options," said Jonathan Buxton, partner and head of consumer and retail at Cavendish.
The deal comes as fellow UK meal kit provider Gousto also secured a significant cash injection, receiving £18m in funding from a number of venture capital groups as well as fitness guru Joe Wicks.