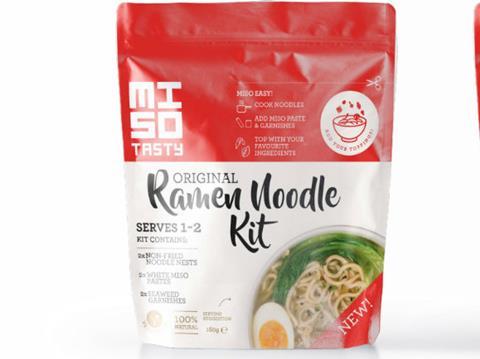 Japanese snack brand Miso Tasty is raising £150,000 in a crowdfunding campaign to support the launch of a new line of ramen noodle kits.
The pitch went live on the Seedrs platform this morning (6 March) and has already racked up £56,000 from 36 investors.
Miso Tasty was founded in 2014 by Bonnie Chung, who was named as one of The Grocer's Top New Talents in 2015 and shortlisted as Entrepreneur of the Year in the 2016 Gold Awards.
Its range of instant miso soups and miso cooking pastes are stocked in more than 1,000 UK stores, with listings in Waitrose, Sainsbury's, Ocado and Wholefoods.
The new ramen noodle kits will be rolled out across 294 Waitrose stores nationwide from 27 March.
Turnover has grown to more than £200,000 since the business launched, with the ramen noodle kit extension expected to triple the top line in the next financial year. The business has gone from making half a tonne of miso per year, to eight tonnes. In 2017, it is projected to make more than 15 tonnes to meet growing demand.Miso
"We are about to grow our business considerably by launching into the rapidly growing market of meal kit solutions, with our range of ramen noodle kits," Chung said.
"It's been brilliant to see how receptive the market has been to Japanese food so far. We are excited to crowdfund at this stage of our journey to welcome our loyal fans and engaged customers, giving them the chance to share in the future success of Miso Tasty. We have a lot of new products in the pipeline and have firm plans to export internationally off the back of the raise."
Miso Tasty is in discussions with "major" distributors in Sydney, Australia and New York in the US, she added.
Chung also released a Miso Tasty cookbook last year, which is available in Australia, New Zealand, South Africa and Europe – and will soon be launched in the US and Canada.
Miso Tasty is giving away a 9.5% equity stake in the business for the £150,000 from Seedrs investors, valuing the business at just less than £1.5m.