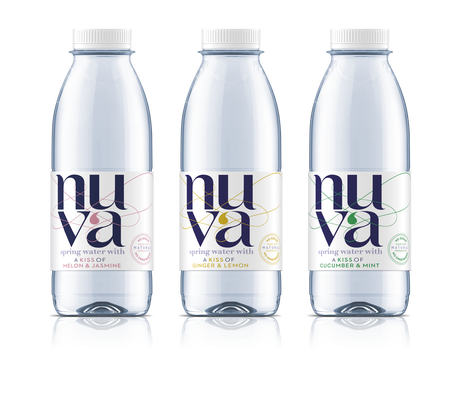 Flavoured bottled water start-up Nuva has raised £1m in development funding from City investors to capitalise on consumer demand to reduce sugar consumption.
The zero calorie challenger brand, which has been on shelves in Boots, Waitrose, Ocado and Holland and Barrett since its launch last year, is aiming to compete with the likes of Volvic's Touch of Fruit drink.
The £1m will be used to raise the brand's profile in the press and on the high street, and to expand its UK and international presence from the 1,000 retail outlets already stocking the drink. Nuva's parent company raised the funds with the help of the private market investments group at Vestra Wealth.
MD Christine Renier said: "Just as Green & Black's did for the chocolate sector, and Dorset did for cereals, we believe that Nuva has the same potential to shake up the soft drinks industry.
"We received an excellent response to the Nuva story from prospective investors and we believe that the resulting transaction leaves the company well positioned to meet growing consumer interest in naturally healthy, sugar-free hydration."
Retail sales are forecast to reach £1m by the end of the first full financial, with ambitions from the management team to hit £10m by 2020.
Nuva is founded by entrepreneur Gemma Pond and has been brought to market by a group with experience in the beverage sector, including former Evian marketing director Christine Renier, ex-Bottlegreen Drinks MD Simon Speers and Gary Nerdrum, formerly of Britvic.
Vestra executive Robert Jolliffe will join the Nuva board as a result of the investment. The £1m fundraising came from 10 main investors, who are all high-net worth individuals, including ex-senior bankers and leaders in various industries.
Gemma Pond added: "Now that Nuva is on-shelf, the development funding that we have raised with Vestra should allow us to bring the brand to the mass market. With this investment in the bank, we're aiming to build Nuva's turnover to £10m by 2020."