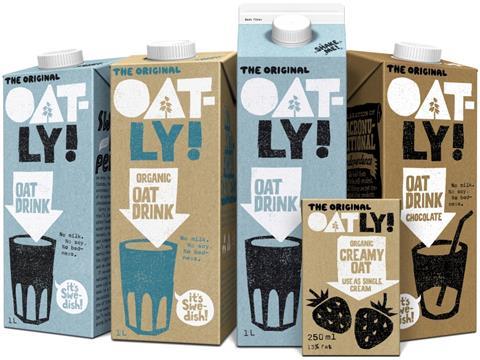 Oat-based milk alternative brand Oatly has raised cash for a global push with the sale of a minority stake to international investors.
A joint venture between investment firm Verlinvest and state-owned group China Resources have taken over the majority of the 17% holding in Oatly owned by Industrifonden, a Swedish-government-backed VC.
The jv will invest alongside the founders and existing shareholders to expand Oatly's manufacturing footprint in Sweden and fund the group's entry into new markets around the world, with a particular focus on China and the US.
Oatly was founded in the 1990s on the back of Swedish research from Lund University and uses patented enzyme technology to produce a range of dairy-free products, such as oat, breakfast and energy drinks, yoghurts, spreads, cooking ingredients and ice cream.
The Malmö-headquartered business, which commands 40% of the market in Sweden, employs 120 staff and generated revenues of SEK 369m (£31.8m) last year from sales in more than 20 countries, including the UK where products are stocked in Tesco, Ocado and Holland & Barrett and turnover is currently about £6m.
A chilled range, including Fraiche, Creamy Oat and Custard, was launched exclusively into Tesco in October.
This new partnership with Verlinvest and China Resources would enable Oatly to further invest in R&D facilities, CEO Toni Petersson said.
"In China Resources and Verlinvest we have found a highly experienced global-minded partner who understands this unique heritage and brings to Oatly a valuable network as well as operational expertise in key markets," he added.
"It will help us bring Oatly's values and unique patented oat-based technology to new consumers across the world. The investment enables us to add further production capacity and product development resources in Landskrona, creating job opportunities and strengthening our presence globally."
The free-from milk category has boomed in the past two years in the UK, with the likes of Alpro leading the way.
Petersson said: "Oatly's mission is to make it easy for people to eat the healthy food they love, without recklessly taxing the planet's resources in the process."
Corporate advisory firm Spayne Lindsay advised the shareholders and company on the transaction.
The China Resources-Verlinvest jv was established earlier this year to invest in mid-sized, high-growth businesses in the healthy branded food & beverage and senior care sectors. Verlinvest is a Belgian, family owned investment firm focused on consumer businesses and China Resources is a holding company with a diverse range of interests, including thousands of food retail outlets and coffee shops in 280 cities across China.
"We have been very impressed by what the team at Oatly has achieved so far in building the Swedish market leader and we are excited to join them, alongside the existing shareholders, to bring the brand, an icon of Swedish health and sustainability, to a global audience," Verlinvest chairman Frédéric de Mévius said.
Kerry Zhang, deputy general manager of China Resources Holdings strategy department, added: "Oatly has built a differentiated lifestyle brand with an ethical approach which we believe will strongly appeal to the Chinese consumer."