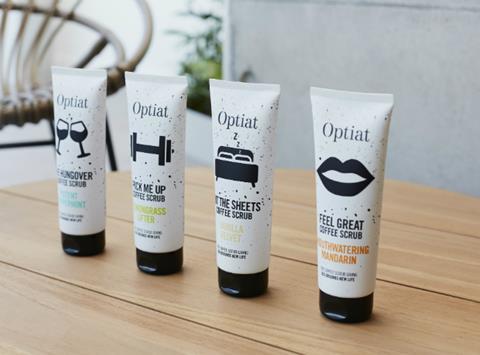 Optiat, the organic personal care startup, has raised more than half of the funds needed to expand its business – just two days into its first-ever crowdfunding initiative.
The London brand kicked off a Crowdcube drive on Tuesday (30 January) with the aim of raising £150,000 in exchange for 6.98% of equity. The month-long campaign passed the halfway mark within 48 hours, and at the time of writing had reached almost £86,000 (57%) from 142 investors.
Launched in April 2016 by siblings William and Anna Brightman, Optiat positions itself as a 'nature-friendly beauty company' for men and women. Its premium range – made in the UK using only plant-based ingredients – includes exfoliating body scrubs that eschew plastic microbeads in favour of used coffee grounds from London cafés. They have so far used more than 7,000kg of coffee grounds.
Optiat lines are distributed in seven countries, with UK listings in Whole Foods Market, Planet Organic and Topshop. Rsps range from £6.99 to £17.99.
The Brightmans had previously funded Optiat through directors' loans and a Virgin Start Up loan. They plan to spend their Crowdcube funds on larger production runs, R&D, and marketing and advertising.