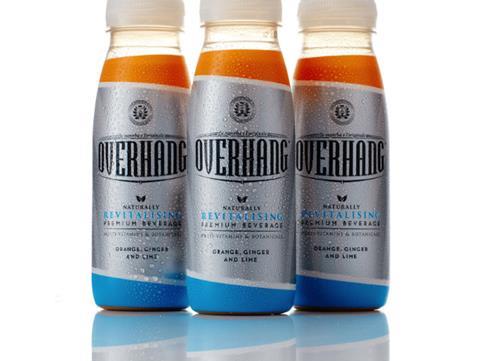 Drinks start-up company Never Felt So Good (NFGS) is seeking a £150,000 investment from the crowd to grow its Overhang energy drink brand.
Launched in September 2015 by a father-and-son team Stephen and William Wilkinson, Overhang styles itself as a natural pick-me-up drink that can relieve hangover symptoms.
It is now available in more than 1,000 retail stores, including at Tesco, Asda, Spar and Holland & Barrett, and has sold about 175,000 bottles to date, generating revenues of £147,000.
NFGS launched its crowdfunding campaign on the Crowdcube platform today as it seeks funds to tap the potential of the brand in the UK and internationally. It is giving away a 5.7% equity stake, valuing the business at about £2.5m.
It has raised £17,000 from 33 investors so far today at time of writing in late afternoon of 11 September.
"While we have already achieved a great deal, there is still a way to go, which is why we have turned to Crowdcube," co-founder Will Wilkinson said.
"With this extra funding, we will look to invest in marketing to further grow the Overhang brand. We will also continue to expand our distribution channels as well as adding sales and marketing resources. This is a really exciting time for Overhang as we launch in new stores across the UK on a weekly basis. With investment from Crowdcube we are really excited about taking the brand to the next level."
To date, NFGS has raised £362,000 seed investment, with 77% coming from friends and family, and the rest from the management team, which includes drinks industry veteran Peter Jackson (ex Anheuser-Busch, Fosters and Treasury Wine Estates) and Chas Howes (former Super Group CFO).
Overhang is based on a family recipe dating back to Steve's great grandfather Tony Vacarra, who emigrated to England from Italy in around 1870.
The drink is a mix of orange and lime juice with vitamins and botanical extracts, including burdock root, ginger, milk thistle and raspberry leaf (rsp: £1.20 to £1.49/250ml).
Will Wilkinson added: "While the original recipe was designed as an antidote to indulgence, Overhang today is sold and consumed as a natural energy drink. With only 6g of sugar per 100ml, it is naturally low in sugar and a healthy alternative to the currently widely available energy drinks on the market."