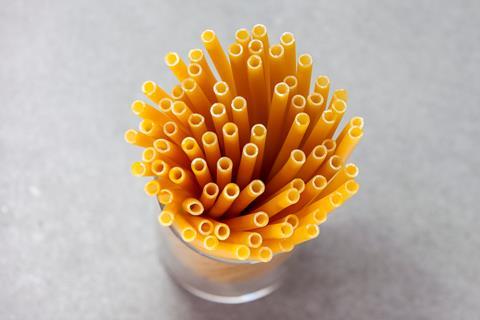 Pasta straws maker Stroodles has smashed its crowdfunding target, raising over £182k to fuel its ambition of becoming the go-to straw alternative.
The one-year-old startup hit Crowdcube last month looking to raise a minimum of £100k for a 12.7% stake – implying a valuation of £1.3m.
Within a couple of weeks, Stroodles met its initial target, with over 470 investors pledging to its mission of replacing plastic and "soggy" paper straws with a flavourless, edible and biodegradable alternative lasting over an hour in cold drinks.
"This level of success is very rewarding," founder Maxim Gelmann said. "One of the main reasons I decided to crowdfund was that I was hoping for a high level of engagement – as a consumer brand you need ambassadors as well as investors who will support your growth.
"It is one thing when someone says to you 'I love your product' and another when they put money to their mouths."
The cash raised will go towards expanding Stroodles' sales team, funding marketing activities and NPD – including gluten-free and coloured straws.
Gelmann also envisions the addition of other products which, like Stroodles straws, will be "uncompromising and helping to fight plastic".
"The market for straws is worth $4.5bn and at the moment 99% of it is represented by plastic straws. My ambition is to provide a product which is as good as plastic and become the go-to straw alternative," he added. "Where now you see paper straws replacing plastic I want there to be Stroodles."
Gelmann is also planning to build a franchise model to internationalise the brand, already selling across most European countries via Amazon, as well as other distributors.
Since launching in December 2018, Stroodles has sold over 350,000 straws and expects that number to rise to 31.5 million in the first year post-fundraising, across both B2B and B2C, to reach 625.4 million by year three.
According to this forecast, the brand will be generating revenues of £944.7k in year one, £4.6m in year two and £13.5m in year three.
"This is still very conservative," Gelmann said. "In fact, I would just need to sign one big supermarket anywhere in Europe to hit my target.
"To put it into context, McDonald's goes through 3.5 million straws per day, so to reach my year one projections I would need to sign McDonald's for eight days."