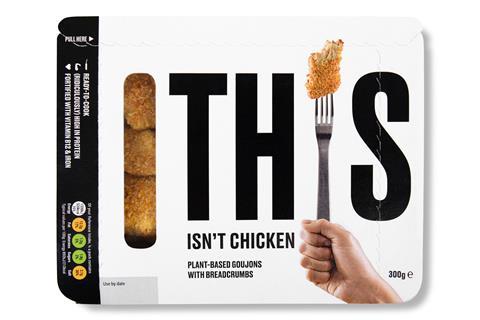 Meat alternative startup This is readying a crowdfunding campaign to raise a minimum of £2m as it aims to "accelerate growth rather than just staying alive".
The "fake meat" startup, which produces pea and soy-based products such as its This Isn't Bacon rashers and This Isn't Chicken goujons, will launch publicly on Seedrs in early August.
The raise will be made as a convertible loan note raise, offering a 20% discount on a future investment round – which will probably be in mid-2021 – co-founder Andy Shovel told The Grocer.
He added that if demand was "really high" the brand would consider overfunding past the initial £2m target.
The funds raised will be used to open a plant-based innovation centre in London, where food scientists, engineers and project managers will come together to accelerate NPD for the business.
Shovel explained: "The plan is to make it so that once we have an idea for a new product, it is on the market as soon as possible, in a good case within three months."
Further cash will be devoted to increase marketing spend and volume production to "keep up" with the retail growth experienced so far.
Having launched just over a year ago, This has been growing at pace. In its seventh month of trading – January or 'Veganuary' 2020 – monthly revenues amounted at around £370k.
In April, the company revealed it sold three million portions of its products since launching, growing at a compound rate of 35% month on month, to achieve total revenues since launch of over £3m.
This has already gained listings in over 2,000 stores including Tesco, Waitrose, Ocado and wholesaler Brakes. Two additional launches in "major" supermarkets have also been agreed for this year.
The coronavirus pandemic led to supermarket sales doubling between February and March as households ate more meals at home.
"The coronavirus outbreak has affected us mostly positively, which makes us really lucky because so many businesses are struggling," Shovel added.
"The one negative is that our foodservice partners have mostly been either minimally trading or not trading at all, and we had a big pipeline and we were doing great volumes with them.
"But the retail side of the business spiked, we have seen much bigger volumes and we have had a good reception from new retailers and I have the feeling that buyers are extra motivated to provide a really diversified range during this period when people are relying more on eating at home."
Since 2018, This has raised £5.6m in VC funds, including a £4.7m round led by London-based fund Backed in January to scale up operations and keep up with growing demand for its products.