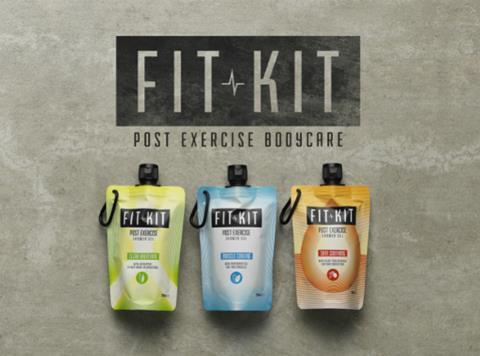 Post-exercise grooming startup Fit Kit is hoping to take on the likes of Bulldog and Man Cave in the major mults, after hitting its crowdfunding target within a week.
The business – valued at £2m – passed £150k on Seedrs on Sunday night (4 November) having kicked off its campaign the previous Monday in exchange for 6.98% equity. Founder and general manager Jeremy Carson intends to keep the push running "until demands runs out".
Launched in November 2016, the London-based Fit Kit makes unisex toiletries intended to "rejuvenate active bodies" after exercise.
With rsps between £3.99 and £6.99, the naturally formulated products include Clear Breathing Shower Gel to relieve nasal congestion and Cool Down Facial Moisturiser to reduce exercise redness. They include functional ingredients such as peppermint oil, olive extract and wild gooseberry.
All lines are certified natural by the Soil Association and cruelty-free by PETA. The shower gels are packed in a lightweight pouch – which was "quite a novel thing" Carson said.
Fit Kit intends to use a significant portion of its new funds to recruit two full-time members of staff in marketing and business operations. It will also invest in online advertising to build brand awareness, and in forming "a strong community of Fit Kit advocates".
A smaller portion of the funds will be spent on doubling the brand's SKUs from five to ten, with deodorants, shampoo, body lotion and scrubs most likely.
Fit Kit is currently listed in 1,064 UK stores including branches of Waitrose and Holland & Barrett. The brand sees "significant growth potential to expand the range to larger UK retailers", where it would compete with the similarly priced Bulldog and Man Cave, which are also premium brands with natural formulations.
"No one's doing a similar concept to us," Carson told The Grocer. "We want people to replace their everyday toiletries with ours."