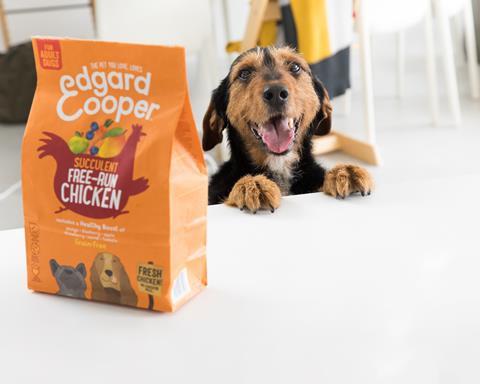 Premium dog food brand Edgard & Cooper has secured over £16.5m to boost growth across Europe.
The brand, founded in Belgium in 2016 and operating in the UK since 2018, has received backing from international investors The Craftory and DLF Venture.
The investment will give Edgard & Cooper the opportunity to grow further in Europe while keeping its "sustainable entrepreneurial model".
The brand is currently active in 14 countries in Europe with offices in London, Paris, Madrid, Milan, Rotterdam and Düsseldorf, as well as in Kortrijk.
Edgard & Cooper was the first European pet food brand with packaging made from 100% biodegradable materials across the full range of food and treats, an approach that it said has saved more than 5,869,786 plastic bags to date.
The business also runs an official Edgard & Cooper Foundation, alongside its commitment to donate 1% of total sales to it, which equates to a donation of £220k this year.
Koen Bostoen, co-founder at Edgard & Cooper, said: "We weren't looking for investors who were only interested in growth and profit, but who, like us, believe that a brand should first and foremost consider the welfare of animals, people and the environment. Both investment funds fit in seamlessly with our vision."
Investor The Craftory supports companies offering products that positively impact the categories they serve, as well as animals and society. DVLF Ventures, which has a similar focus, has been supporting the business since 2017.
Elio Leoni Sceti, co-founder at The Factory, commented: "Edgard & Cooper has everything it takes to become the market leader in their segment of high-quality animal nutrition; a clear vision, excellent products and an enthusiastic team."
Pierre-Jean Wallon, executive director of DLF Venture, added: "Since our first collaboration, we have been impressed by the professionalism and passion of the Edgard & Cooper team. We are very happy that we can continue to support them in their quest to improve the lives of our pets while protecting our planet."
The company produces 38 varieties of dry dog food, wet food and snacks as well as 10 varieties of dry and wek cat food.
It currently sells 200,000 meals per day, with sales currently doubling year-on-year.