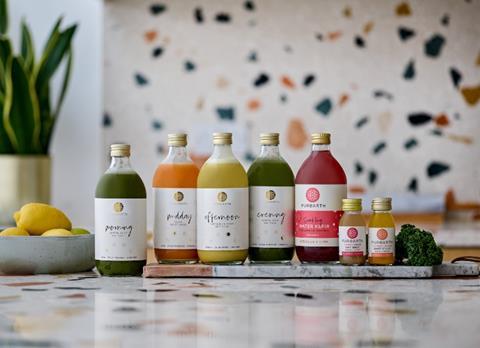 Healthy drinks brand Purearth is lining up a £650,000 crowdfunding campaign as it sets its sights on "significant" expansion in the UK and internationally.
Launched in 2012 by Angelina Riccio and Tenna Anette, the business specialises in organic health drinks, from wellness shots and plant-based broths to nut milks, cold-pressed juice, cleanse programmes and a dairy-free sparkling kefir water, which it claimed as a UK first.
The funding round on the Seeders platform – which opens to the public next week – will help finance the next phase of strategic growth, including expansion into the US and Asia, as well as NPD.
Purearth already secured £300,000 from its existing shareholders before turning to the crowd.
Annual sales growth of the business stands at 108% year on year, with more than 300,000 bottles sold in the past year.
It also experienced an 80% jump in subscriber numbers on its DTC website in the past six months, with a 254% sales uplift during the pandemic as consumers sought out immunity-boosting products.
General manager Paul Gurnell, the former CEO at juice brand Savsé, said: "This investment will allow Purearth to continue to drive innovation in healthy drinks, expand further into new products and reach new consumers.
"We're excited to open the opportunity for the British public and retail investors who share our vision to buy equity in Purearth and be part of the journey with us, so we can continue our mission to help people live healthier lives."
Purearth's range is stocked by Whole Foods, Planet Organic, Selfridges, Ocado, Abel & Cole and independent retailers, alongside its own DTC site.