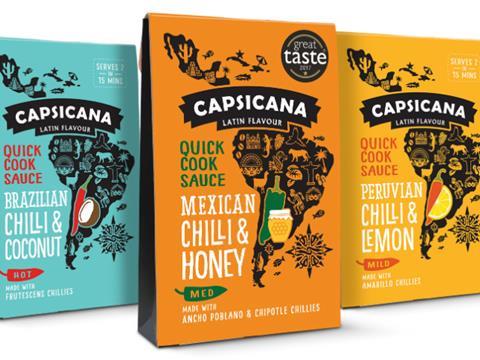 Sauce start-up Capsicana is aiming to raise £300,000 when it launches a crowdfunding campaign this week to tap growing demand for Latin American flavours.
The business is giving away an 8.5% stake, valuing it at £3.3m, to secure money to drive marketing, win more store listings, implement an NPD programme and explore exports.
Ben Jackson founded Capsicana on a market stall in 2009 after travelling around Latin America, with the four-strong range of cooking sauces launched into retail in 2015.
Mexican chilli & honey, Cuban chilli & lime, Brazilian chilli & coconut and Peruvian chilli & lime sauces are now available in more than 700 Sainsbury's, Waitrose and Whole Foods stores nationwide.
Jackson has 10 new products launches planned for 2018 and is in talks with distributors and retailers in six European countries.
"We have grown significantly over the past 12 months and anticipate huge growth next year," he said.
Sales at Capsicana will reach £175,000 this year and are expected to grow to £1.2m in 2018. The business forecasted it would turn a profit 2020 and have revenues of £18.3m by 2022.
The brand has appointed a new advisor to it senior board to help with the future growth. David Elmer, who ran Del Monte Foods in Latin America for 20 years, joins James Beaton, founder of Mexican food brand Discovery Foods, and John Stapleton, co-founder of New Covent Garden Soups & Little Dish. All three have also invested in the business.
Marketer Sam Maitland, who has more than 15 years' experience in the fmcg industry, also joins as marketing director.
"David and Sam bring with them a huge amount of commercial and industry knowledge, which will be instrumental in taking Capsicana into 2018 and beyond," Jackson said.
The appetite for Latin American food is growing rapidly in the UK, with Mexican food voted Britain's favourite cuisine this year by BBC Good Food's fourth annual survey.