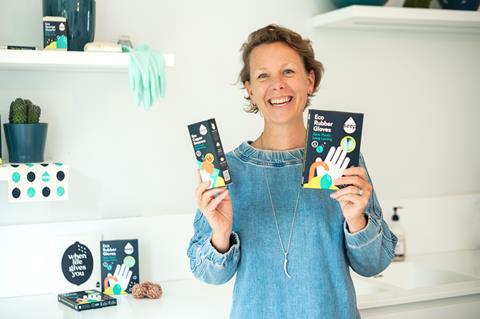 Sustainable startup Seep has raised £750k in seed funding to help it disrupt the household cleaning category.
Founder Laura Harnett launched the eco brand in 2020 with a mission to prevent one billion plastic cleaning tools from entering landfill by 2030.
The range of plastic-free sponges, cloths, gloves, dish brush and biodegradable bin bags are already available at Whole Foods Market, Daylesford Organic, Selfridges and Modern Milkman, as well as at National Trust and Oxfam shops.
Sales to date have hit £2m and Harnett claims the engaged online community exceeds that of rivals Ecover and Spontex in the UK.
"We've already shown that customers are looking for better alternatives in this category, and with this backing, we're ready to really shake up this stagnant cleaning tool category," Harnett said.
A nationwide retail launch with Lakeland is lined up for January and a plastic-free bamboo alternative to the microfibre cloth is launching this month.
Harnett added it left Seep "poised for even stronger growth next year".
Backers in the seed round included impact-focused, female-founded VC Two Magnolias, VC firm Syndicate Room and a former GM at Ecover and Method.
"Two Magnolias is backing Seep for their disruptive approach to an old market, and they are changing the nature of supermarket cleaning aisles with products that do what they say on the tin," said Jessica Rasmussen of Two Magnolias.
"Seep has blown the covers off the status quo. Born in the UK but ready to help consumers globally, Seep is what the future looks like."