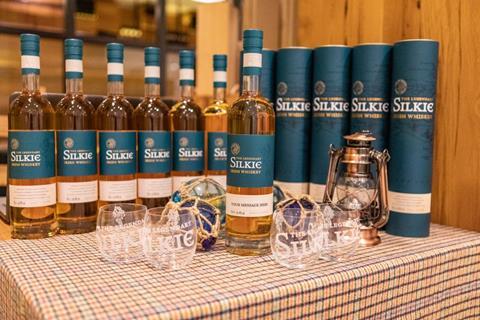 Irish whiskey, gin and vodka producer Sliabh Liag, which is backed by Asahi and former SABMiller executives, has smashed its £1m crowdfunding target.
The Donegal business has raised £1.5m from more than 750 investors on Crowdcube, with two weeks to go before the close of the campaign. It has given away 9.5% equity in the funding round, valuing the company at more than £14m.
Sliabh Liag is building a new distillery at Ardara capable of producing 500,000 litres of spirit per year, with the money raised from the crowdfunding campaign used to complete the project and back future growth.
Former SABMiller CEO Alan Clark, as well as CFO Domenic De Lorenzo and corporate affairs director John Davidson have backed the business from an early stage. The trio have committed a further €250,000 (£230,000) as part of the Crowdcube raise, taking the total invested by the SABMiller execs to more than €1m.
Sliabh Liag was founded in 2017 by husband-and-wife team James and Moira Doherty.
"Raising capital for major building projects can be challenging in the best of times, so to have surpassed our target with still two weeks to go on our crowdfunding campaign is fantastic news," James Doherty said.
The business has so far launched whiskey brands Silkie and Dark Silkie, An Dúlamán Irish Maritime gin, An Dúlamán Santa Ana gin and Assaranca vodka, with 65,000 bottles sold in 23 countries since 2017.
Year-to-date sales in 2020 are up 75% on 2019 despite the challenges of the coronavirus outbreak.
Sliabh Liag is set to focus heavily on the Irish whiskey market and plans to revive the smoky flavours associated with Donegal's output in the 1800s as a differentiator for the brand. The founders' aim is to make Donegal as famous for this style of whiskey as Islay is for Scotland's peated, smoky whisky.
"It is testament to the strong business we have built already on the back of our Silkie, An Dúlamán and Assaranca brands, the carefully considered future we have mapped out and hard work of our teams in Donegal and beyond," Doherty added.
"Whiskey is a long-term business, but with this successful raise and newly anticipated overfunding, we will be able to quickly accelerate our mission of reclaiming the distilling heritage of Donegal."