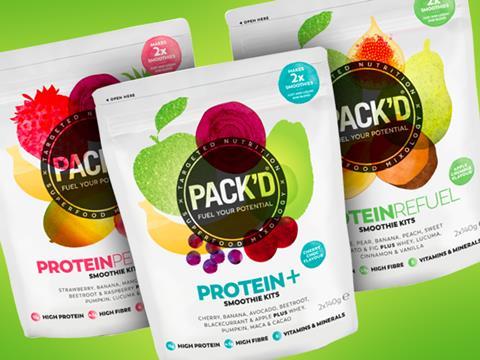 Smoothie kit start-up Pack'd has reached out to the crowd for £500k to drive the launch of ten new SKUs.
The nutrition-focused business will use funding for marketing, new product development and working capital ahead of new product launches, outside of smoothie packs, in the frozen and nutrition sectors.
The company, which was founded by Luke Johnstone and Alex Stewart in 2016, is stocked in 1500 retail stores, including listings at Tesco, Sainsburys and Ocado.
Through the crowdfunding campaign on Crowdcube, it is seeking £500k in investment at 10.24% equity, at a pre-money valuation of £4.38m.
It expects to hit a turnover of around £2m for the current financial year, with current projections to reach £7m turnover within the next three years.
Pack'd has a written agreement with one retailer for nine new SKUs later in the year, as well as a listing for another new launch with a separate multiple.
Working capital from the funding round will also help the company to drive forward its webshop on home delivery service.
Pack'd has had to "essentially slow its progress" as it was in need of extra funding in order to drive through new plans, said founder Luke Johnstone.
"We are one of the smallest companies in the supermarkets at the moment, and to a certain extent, it's a miracle we have got even where we are. I think it is important when you are competing against such big companies that you are funded enough to carry out the plans you want," he commented.
"We basically started with idea of smoothie kits in 2016 and we set I up at a market stall. Our first listing was actually with Eat17, who based just across from our stall. We then grew our listings and had it in 750 stores in our first six months, and 1500 now."
High profile investors including David Krantz, the founder of upmarket retailer Space NK, and Robert Porter-Smith, founder of Nak'd and Trek manufacturer Natural Balance Foods, have already backed the startup.