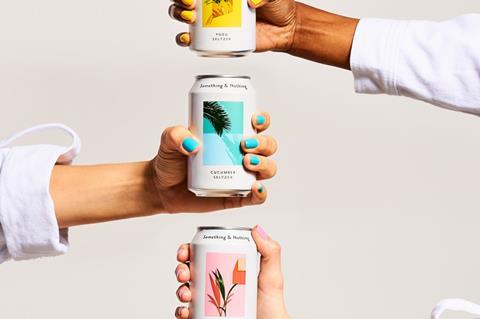 Seltzer brand Something & Nothing has raised more than £500,000 to launch a premium alcoholic drinks range and accelerate its direct-to-consumer offering.
The start-up surpassed its £150,000 crowdfunding target on Seedrs, with almost £270,000 pledged from 93 investors.
Something & Nothing plans to use the government's coronavirus SME growth scheme to double the investment raised. Launched in May, The Future Fund offers convertible loans of up to £5m to innovative and high-growth British businesses to help them through the pandemic and will match the money raised pound for pound.
It's range of three non-alcoholic seltzers are available in Whole Foods, Holland & Barrett, Selfridges and Harvey Nichols as well as in Hawksmoor restaurants, independent cafes and convenience stores in Amsterdam and Berlin.
The business also launched in the US in July after striking a deal with DTC beverage distribution network Iris Nova.
Cash from the crowdfunding round will be used to support the coming launch of a range of premium alcoholic seltzers later this year, as well as accelerating the DTC sales channel and for working capital as it grows in the UK, Europe and the US.
"Covid has obviously been challenging for everyone, but our DTC business has grown by 200%, with revenue from subscriptions making up 25% of online sales," the business said in the Seedrs pitch.
"With the business starting to open up across the UK, Europe and the US we are aiming to sell over 400,000 cans by the end of 2020."
Something & Nothing expects to start turning a profit in the first quarter of 2021 and is planning a series A funding round in 2022 to follow on from the Seedrs raise.