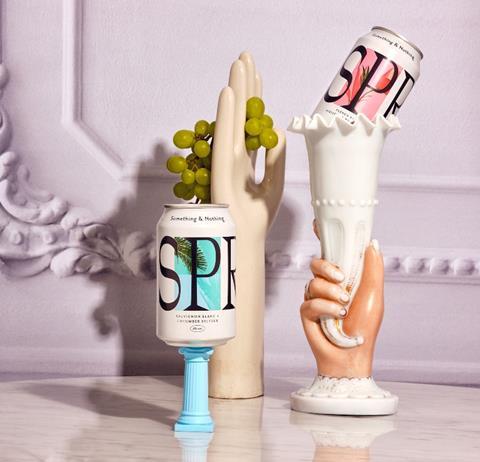 Premium seltzer brand Something & Nothing has raised £1.5m in a private investment round to capitalise on growing demand in the US for its range of drinks.
The round was led by VC firm Rianta Capital, alongside Siggi Hilmarsson, the founder of Siggi's Icelandic-style yogurt, and Dutch entrepreneur Bart Jan Manten, founder of Mediterranean food products maker Neolea.
Something & Nothing will use the investment to capitalise on growing traction in the US and continued rapid growth in the UK. It also plans to start production in the US by the end of the year.
The seltzer brand launched a two-strong range of alcoholic drinks in the US in 2020, helped by a £500k crowdfunding round, and is listed with a number of retailers across the country, including Erewhon, Di Bruno Brothers, Flask & Field, Pink Dot and H Mart.
Its range of three non-alcoholic seltzers and two hard seltzers are also available in the likes of Selfridges, Whole Foods and Harvey Nichols, among others, in its domestic market.
Something & Nothing will also put the new capital to work by rapidly increasing sampling to win new customers, with plans to giveaway more than 100,000 cans in the UK and US at train stations and music festivals.
Co-founder Rupert Pugsley said: "We know our spritz is the best tasting product on the market and we have absolute confidence in the liquid, so the best way to gain more fans is for them to experience it, therefore we are investing heavily in targeted sampling around different drinking occasions."
Tom Singh of Rianta Capital added: "We see Something & Nothing as having that very rare combination of a fantastic product and a totally unique brand. We believe this combination will see them gain global success and we are very happy to be joining them on their journey."
Siggi Hilmarsson said the unique proposition of the brand positions it to be able to take on the big players in the drinks industry.
The yuzu, hibiscus & rose and cucumber seltzers are made with natural juices, extracts and botanicals, with the new 4% abv spritz range blending the seltzer with wine from a family run estate in the Côtes de Gascogne.