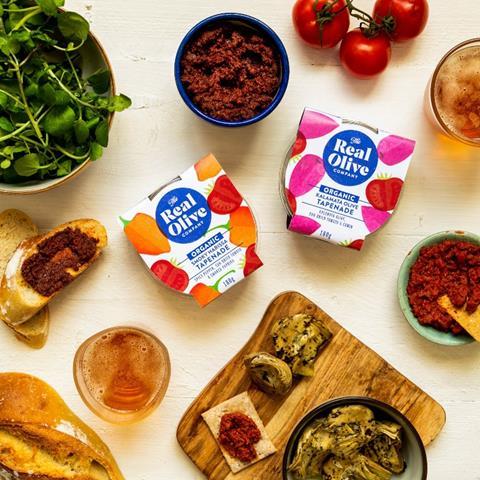 The Real Olive Company is eyeing an increased presence in supermarkets after surpassing a £200k crowdfunding target.
The producer of fresh, organic olives, olive oils and antipasti is overfunding for another two weeks and has currently raised more than £250k from 350 investors.
It will use the money to grow its team, brand, product range and customer listings internationally.
The funding round on the Crowdcube platform coincides with the business expanding its range of products with Kalamata olive and smoky harissa tapenades.
Sold both in retail and in larger quantities for foodservice outlets, the company has secured listings for the two lines in Ocado, Booths and Abel & Cole, as well as a number of independents and distributors.
Real Olive is also hoping to confirm listings with Waitrose and Sainsbury's in the coming weeks and predicted the tapenades had the potential to generate more than £200k in annual sales.
Founded in Bristol by Karin Andersson and Ben Flight in 1998, the business sells its range of products in retailers, with listings at Waitrose, Sainsbury's, Whole Foods and Planet Organic, wholesalers and on its DTC website.
It sources ingredients from small, independent organic olive producers and is working towards 100% recyclable and compostable packaging.
Founder and marketing director Karin Andersson said: "Our aim is to grow our presence across UK retail fixtures with the addition of the new product offerings, and we hope to double our existing footprint within retail in the year ahead.
"Following our crowdfunding round, we will invest in growing the business on a wider scale going forward, targeting sustainability-focused customers in the UK, as well as internationally."
She added: "These new tapenades see us entering a new category, reaching a broader consumer demographic and furthering our mission to introduce more people to great tasting natural food.
"We can see a real gap in the market for quality fresh dips and antipasti and can see them adding great value in independent retailers' chillers nationwide, as well as fitting nicely into the fresh deli and dips category in major retailers."