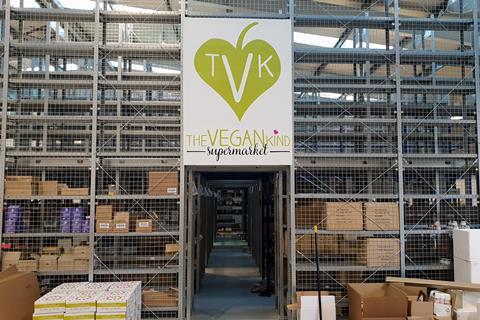 Online vegan supermarket The Vegan Kind is preparing to launch a crowdfunding campaign as it seeks scaling funds.
The campaign, currently in pre-registration mode, will go live to the public on Seedrs at the end of January to coincide with the conclusion of Veganuary.
The Vegan Kind will seek £500k in exchange for a 12% stake – valuing the business at £4.1m. It has already received over 1,000 pledges, totalling a theoretical maximum of £2.2m of investment.
Co-founder and CEO Scott McCulloch told The Grocer: "Now is the time we feel comfortable and confident in our operations, the last year has been very challenging but we have seen phenomenal growth.
"We are now in a prime position, we are financially stable and we are running the business efficiently. We are ready to scale, we just need money out of the pot and we will grow."
The supermarket was open to overfund, he added, with the cash raised to go towards a scale-up push comprising new hires, inventory growth and marketing efforts – including content production.
McCulloch started the business with his wife Karris in 2013 as a vegan subscription box, packed with new plant-based products, delivered to customers once a month.
A vegan beauty box followed and in 2016, the pair launched a full online store stocking over 4,500 fully vegan products.
Revenues jumped 56% to £2.5m in the year ended 31 October.