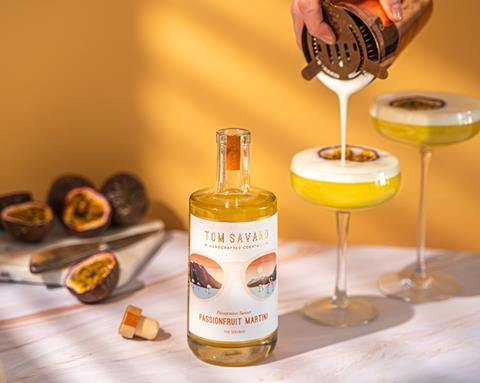 Premium pre-mixed cocktail start-up Tom Savano has beaten a £250k crowdfunding target to help scale up the business and keep up with "strong" demand.
After launching at the end of 2019, the business has already generated £700k in revenues, selling more than 40,000 of its bottled "super-premium" cocktails.
The brand is available across three primary channels: online, through its own DTC website and Amazon, retail, with listings in John Lewis and department store Fenwick, and foodservice, to partners such as hotels, restaurants and pubs.
Started in founder James Kerslake's kitchen, Tom Savano has expanded its travel-inspired range from four to ten handcrafted, premixed cocktails available in three formats (100ml, 200ml and 500ml), including Cuban Revolutionary Mojito, Kentucky Winter Old Fashioned, Sydney Twilight Espresso Martini, Caribbean Dawn Mai Tai and Devon Coastal Negroni. The bottles are
The company produces the drink at a 2,500 sq ft factory, with capacity for 2,000 bottles a week and plans in place to increase this to 20,000 in the next four months.
Its raise on the Seedrs platform is currently overfunding after hitting its £250k target, with £360k invested so far by more than 120 backers.
The funding will help support "significant demand" for its drinks as the company looks at exporting the brand, investing in marketing and scaling up capacity.
It is also in talks with Virgin Atlantic and Marriott Hotels to expand its distribution further.
Kerslake said the business was "well positioned" to now grow.
"Consumers are looking for premium products, and we see real growth potential for this part of the premixed cocktail market, which hasn't really been explored before," he added.
"In particular, we think our offering of creating drinks that capture the most exceptional travel-inspired drinking movements is truly special.
"We are excited for our future growth, expanding our core offering and establishing Tom Savano on a global scale."