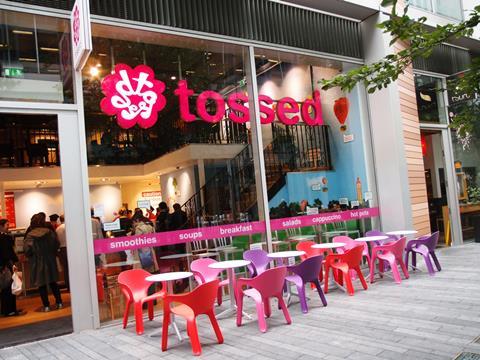 Food-to-go retailer Tossed is one of three companies to have received investment from tennis world number two Andy Murray on crowdfunding platform Seedrs.
The healthy eating business has smashed its fundraising target of £750,000 with 20 days to spare and is now overfunding, with more than £1m committed by 537 investors so far for an equity stake of 7.5%. It values Tossed at almost £14m.
Former Wimbledon champion Murray said he was attracted to the company because of his passion for nutritional eating. However, the amount he has pumped into Tossed is undisclosed.
Finance director Neil Sebba said there had been no discussions about commercial endorsements from Murray. "It's been great PR for us to have a high-profile investor but where that goes in the future we don't know," he said.
"I'm excited to be investing in these driven entrepreneurs and their businesses on Seedrs," Murray said. "It's important to me that I back people who I believe have the same dedication, hunger and professional standards as myself and always strive to be their best.
"The three businesses I've chosen to kick off my crowdfunding investment portfolio are all in areas of industry I find interesting. Healthy eating is something I have to be passionate about as a sportsman, so Tossed was immediately one to consider."
Tossed has 25 sites, mostly in central London and shopping centres in the city with a handful of outlets in Welcome Break service stations in Hampshire, Oxfordshire, Hertfordshire, Surrey and Warwickshire.
"There is massive opportunity for brands like us in franchising and we're also getting lots of interest from landlords who recognise they need something healthy in the mix," Sebba added.
"That's why we're in Welcome Break. They wanted a brand to go alongside the likes of Burger King and KFC. I firmly believe there is an opportunity for a healthy eating brand to be out there fighting amongst the big boys."
It has agreed a deal with Welcome Break to open at least two stores a year for the next five years, with sites already planned for train stations and airports. A partner in the United Arab Emirates has signed up to open 20 sites within five years – with three already secured – and Tossed has acquired the trademark for several other countries.
Tossed has agreed a deal with Welcome Break to open at least two stores a year for the next five years. It has also signed a deal in the United Arab Emirates to open 20 sites within five years – with three already secured.
Sales at the group, which has been in business for ten years, hit £8.2m in the year to the end of March, representing annual growth of 30.3% and 8.8% on a like-for-like basis.
Murray, who joined the Seedrs advisory board in June, also invested in ASOS-backed Trillenium, a builder of 3D virtual reality shops, and Fuel Ventures Fund, founded by entrepreneur Mark Pearson of myvouchercodes.co.uk.
The tennis star added he planned to make further investments as part of his "strategic relationship" with Seedrs.
"It's great to see Andy already taking such an active interest in the businesses on Seedrs," said Jeff Lynn, CEO and co-founder of Seedrs. "The fact he has decided to make multiple investments in hungry entrepreneurs shows his commitment to building a dynamic portfolio of early stage businesses. Andy has already brought a lot of value to the Seedrs advisory board over the past few months and we welcome his continued support."
Murray's other off-court interests include his management company 77 and luxury Scottish hotel Cromlix.