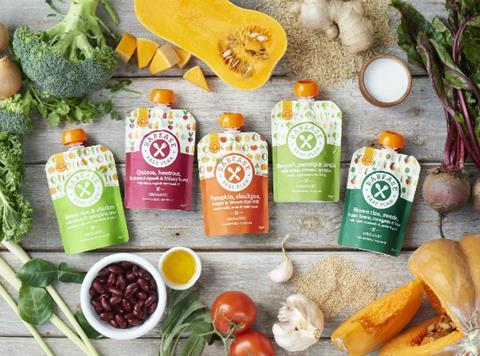 Vegetable-focused babyfood manufacturer Babease has reached out to the crowd for £850k as part of efforts to raise £3m total investment.

The company said it had seen 900% sales growth over the past year and hopes to triple that in the following year.
The funding campaign on Seedrs is aiming to raise the £850k, with the company valued at £12.1m before the fundraiser.

Babease launched in December 2015, marketing itself as the UK's first vegetable-led babyfood brand, and credits itself with the introduction of kale and quinoa in the babyfood category.
The company's mission was to make commercial baby food taste better, said co-founder Tom Redwood, and the supplier has now secured listings with Tesco, Waitrose and Ocado.

"The £850k we are raising is part of a wider £3m fundraise we are currently in the middle of, but we wanted to use crowdfunding to widen this to more customers.
"The campaign will help to tackle concerns in the babyfood sector surrounding overly sweet foods, poor ingredients and unbalanced recipes."
"The investment is going to go into supporting our growth at the moment. We have lots of exciting plans including a really exciting brand refresh, continuing innovative NPD, we are working on sustainable packaging and we are investing our team to spearhead growth in the UK and overseas."
Babease is one of a number of rapidly growing startups in the increasingly competitive babyfood market, which lost competitor Miniscoff this week after it entered liquidation.

The organic children's food manufacturer cited the loss of a major contract for its decision to cease trading on 25 May. A buyer is now being sought for the company name, goodwill and assets, including its recipes.