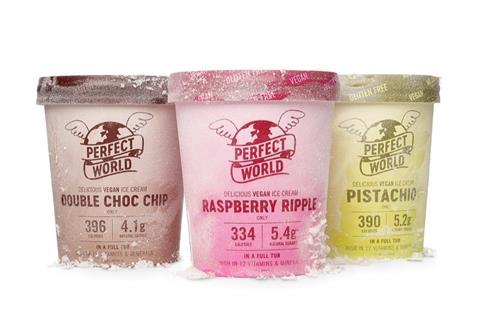 Vegan ice cream manufacturer Perfect World has launched a crowdfunding campaign to back its UK and international expansion plans.
The startup – making plant-based 'healthier' ice cream – hit Seedrs this week looking to raise a minimum of £75k in exchange for a 1.9% stake, valuing the brand at £3.8m.
With 38 days to go, it raised almost £70k – or 93% of its target – from 116 investors.
Perfect World's ice cream – available in flavours such as Pistachio, Caramel Pecan and Mint Choc Chip – is vitamin fortified, high in fibre and sweetened with stevia.
The brand launched in 2018 and is listed by Ocado in the UK, and exports to 239 Jumbo supermarkets in The Netherlands. It also recently secured a deal to expand into the Nordic countries.
Perfect World plans to use the cash raised to increase stock levels to support its expansion, boost marketing and drive sales, it said.
A rebrand is also planned for late summer 2020, with increased focus on the product's health credentials and vitamin levels.
"We have a range of new products, new branding and an even healthier recipe formulation on the way. This round is all about getting the healthiest desserts in the world to market and expanding distribution into more territories," CEO Christopher Conklin told The Grocer.
The business is willing to overfund, Conklin told investors, with the additional cash to cover product and brand development through 2020 and beyond.
"Healthy eating is more important now than ever," he added.
"We think that it is an important time to put healthy brands such as ours at the front of investors and consumers minds, as spending shifts to the things that matter. There are not many safe investments in the current climate, but we are confident that healthy eating is one of them.
As the coronavirus pandemic developed across the world, Perfect World orders were up 350% year-on-year in The Netherlands and 50% in Ocado.
"We expect growth on an upward curve from here," Conklin added.
"The public wants and needs healthier foods, with less sugar and real health benefits.