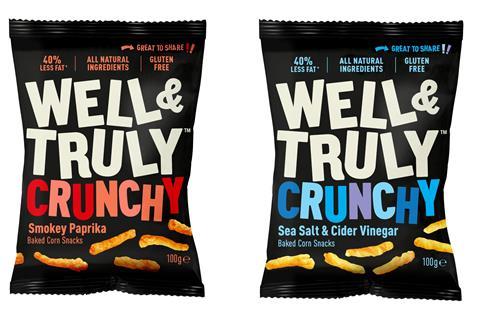 Healthy snacking startup Well & Truly has secured a £500k investment to target ambitious 150% sales growth this year.
The latest cash injection, from industry fund The Health Food Group, took the total raised by the brand since launching in 2016 above the £1m mark.
Well & Truly bagged £537k of growth capital in two previous rounds, including a fundraise led by female-focused funding network AllBright in 2018.
"We have had a strong growth path that has enabled us to have an attractive story to tell investors," said co-founder Sara Trechman.
The latest fundraising effort, however, had been "the hardest so far" due to widespread uncertainty within the UK, she added.
Well & Truly will use the money raised to cover marketing activities, including the launch of its first-ever brand campaign supported by TV personality Gemma Collins, and to expand its sales team with hopes of growing by 150% in 2020.
The company, which is currently loss-making, is eyeing its first-ever profit by Q4 this year.
The brand makes veggie-friendly low-fat gluten-free snacks, with all-natural ingredients, which are less than 140 calories per 30g serving.
Its crunchy corn snacks – including Really Cheesy, Sour Cream & Onion and Smokey Paprika – are available in more than 2,000 stores across the UK, including in Tesco, Sainsbury's, Ocado, Whole Foods Market and Booths.
Well & Truly's "naughty-ish" snacks will also begin to be exported across South Africa as well as Ireland, Cyprus and Slovenia.
Advanced talks are ongoing with distributors in the Benelux, China, Spain, Sweden and France as well, with exports expected to go live within the next two quarters, Trechman added.
South African business The Health Food Group, whose portfolio includes the likes of Simple Truth and Gordon Ramsay's Oh My Goodness, said: "The Well & Truly brand offers the perfect balance between 'naughty-ish' but healthier snacking and fits our vision of 'healthy living through healthier eating'."