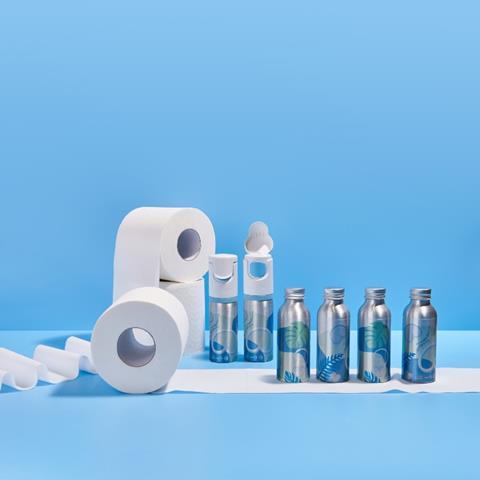 Sustainable personal care challenger Wype has secured pre-seed financing ahead of a bigger round later this year to help bring its wet-wipe-in-a-bottle innovation to supermarket shelves.
The rapidly growing brand produces an organic gel to apply to toilet paper as an alternative to using wet wipes.
Currently sold on its DTC website and Amazon, Wype has racked up £1m in cumulative sales since launching in 2020, with average monthly growth in 2022 of 23%.
The business raised £310k in the pre-seed round, led by VC firm Velocity Capital, alongside angel investors. It used the cash to grow the team, improve the website and bring new customers to the brand in a bid to expand sales.
Wype is now aiming to raise in excess of £1m in a larger seed round in the autumn to fund its NPD pipeline and an expansion into the retail channel.
It comes as the government is considering a ban on wet wipes as the 11 billion used by the UK each year blocks sewage networks and pollutes rivers and beaches, with an island the size of two tennis courts of the disposable product found to have changed the course of the Thames last month.
Holland & Barrett stopped selling wet wipes in 2019, while Tesco became the first major UK retailer to ban baby wipes containing plastic earlier this year, with Aldi and Boots following suit.
However, Wype co-founder Giorgia Granata said moving to flushable wipes wouldn't solve the problem.
"There is a growing interest in intimate hygiene, and wet wipes are pushing hard to become the premium alternative to toilet paper," she added. "But 'flushable' wipes are an oxymoron, having been found to be 88 times more likely to form a blockage than regular toilet paper."
Co-founder Eli Khrapko said: "Consumers are actively seeking genuine alternatives. We are effectively building a new category and Wype's continued growth potential is vast."
Wype has so far prevented more than 25.4 million wet wipes from ending up in waterways or landfill, the business claimed.
The brand's hypoallergenic gel is made using a combination of aloe vera, chamomile and other moisturising ingredients. It is sold alongside a refillable recycled aluminium bottle.