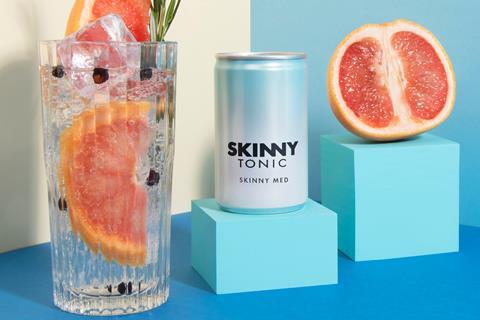 Zero-calorie tonic startup Skinny Tonic has smashed a £1m crowdfunding target in just 24 hours.
The brand, which makes a range of flavoured tonics with no sugar or calories, kicked off its Seedrs campaign last week seeking £1m for 8.83% of its equity, valuing the business at £12m. Funds flowed in, hitting the target in less than a day, and by the time of writing it had raked in over £1.16m from 460 investors, with 34 days left to go.
The massive overfund would allow the brand, which debuted this year after soft-launching in 2019, to triple production and embark on a massive expansion into the retail sector, its co-founder Steve Wilkinson told The Grocer.
"We've already signed some lucrative contracts for 2021. We get the keys to a brand new facility on 14 December which is 12,000 sq ft – it's a brand new building created especially for us. We're adding another two machines and canning lines which will be fully operational from January time."
The facility will be capable of producing 36,000 cans per hour.
Skinny Tonic also plans to launch a Skinny Soda brand next year aimed at children, and has signed an agreement with Lidl to produce an own-label tonic for the retailer. It has also teamed up with the Emoji brand to launch a kids' drink called Emoji DRNK.
It was founded by Wilkinson and Ian Minton, who came up with the idea after he was diagnosed with diabetes. "He still wanted to go out and enjoy himself but would always have problems with insulin spiking," said Wilkinson.
Its tonics are made with stevia instead of sugar. "Stevia is notoriously hard to manage and use. This is not something that was thrown together in a matter of weeks. It has taken years to create."
Wilkinson added he wanted the brand to provide "an alternative" to the likes of Fever-Tree and Schweppes. "I would be very surprised if we're not in every major supermarket next year."