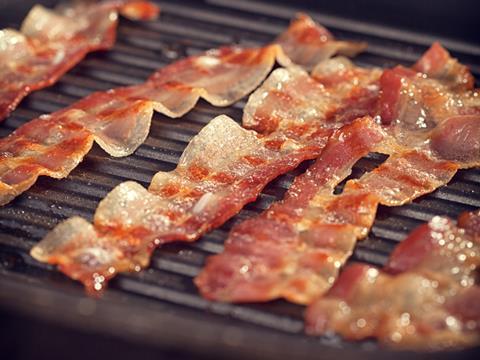 Aldi has launched a limited edition nitrite-free bacon, which it claims represents a "major breakthrough for food safety".

The product went on sale on 26 April while stocks last, as part of Aldi's regular Super Six meat promotion.

It uses a mix of fruits and spice extracts instead of nitrites - described as a carcinogen by the WHO - which are added to pork during the curing process.

Aldi's launch follows the unveiling of the nitrite-free 'Naked' range of bacon, ham and sausages in January by Northern Ireland-based meat processor Finnebrogue. These products blend Mediterranean fruit and spice extracts to give pork its colouring, add flavour and match the shelf life of traditionally produced bacon and ham.

The new Aldi product was manufactured by one of the retailer's suppliers using Finnebrogue's nitrite-free technology, but with a different recipe to the Naked Bacon range.

"It is being supplied to Aldi by a small producer who is using our ground-breaking technology and their own bacon recipe," said a Finnebrogue spokesman. "We are committed to removing nitrites from food and are willing to work with our industry partners to achieve this aim."

It comes as Morrisons and Asda stores in Northern Ireland became stockists of Naked Bacon this week, joining Waitrose and Sainsbury's, while M&S stocks an own label variant produced by Finnebrogue. The brand launched its Naked range in January, with products including bacon, sausages and ham free of nitrites and e-numbers hitting shelves.

The brand was also working on a smoked variant to join its unsmoked ranges, with launch initially slated for spring 2018, said Finnebrogue chairman and founder Denis Lynn at the range's December preview. It planned to invest in atomising technology to pass smoke through water, removing carcinogens before infusing the pork with a smoky taste.

The range was the first in the UK to contain zero nitrites, and was based on technology already used in Herta hams in France, said Lynn.

Nitrites were singled out as a potential carcinogen in a WHO report in 2015, which warned consuming 50g of bacon per day - the equivalent to two rashers - could raise the risk of contracting bowel cancer by 18%.