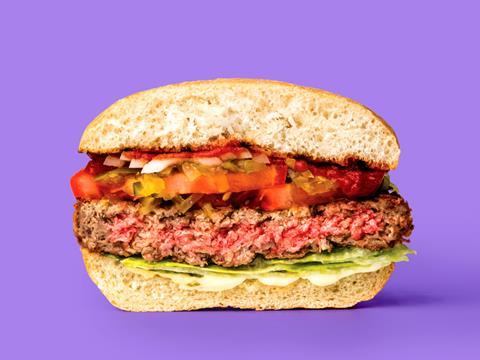 So, Quorn, you want to develop a 'bleeding' veggie burger? Join the queue.
Being the established vegetarian option is no longer enough to take the edge in the increasingly crowded meat-free market. Vegan is now where it's at, and Quorn has suddenly found itself middle of the pack, as most of its lineup contains egg.
The market leader has this week announced its £7m investment in a new R&D facility, with a view to increasing its vegan offer, in particular a meat-free but bleeding burger.
If it gets the execution right, Quorn's burger could launch the plant-based movement into the stratosphere. Think of the excitement around the Beyond Burger, then imagine the fever pitch if Mo Farah was the face of its advertising campaign.
But though we know a bleeding burger is a popular idea – Beyond, Impossible, No Bull and Moving Mountains have all proved that – it's hardly the "breakthrough" suggested by Quorn.
A few months ago, it may well have been. But the plant-based revolution has kicked up a notch since then with the much-anticipated launch of the Beyond Burger hitting Tesco shelves next month – merchandised alongside its meatier counterparts.
Quorn's still-in-development bleeding burger won't be ready for market until 2019, by which time all eyes may well be on the next big trend.
So maybe its efforts would be better spent not trying to elbow its way into that saturated market, but coming up with something new entirely.
After all, the meat-free market is currently hungry for innovation like few others. And increasingly it's not just meat (or dairy) that's getting the vegan treatment.
The latest news is that a disruptive US egg alternative is heading to Europe. A liquid mung bean scramble developed by Silicon Valley startup Just (formerly Hampton Creek) has been picked up by Italian egg producer and distributor Eurovo. A brave step for a virtually unknown product, having launched in a single US restaurant chain mere weeks ago.
In this climate, Quorn cannot afford to stand still. The new generation of meat-free disruptors is not just disrupting the meat industry; they also have veggie stalwarts like Quorn in their sights.
Quorn's new R&D facility is going to have to work overtime to make sure the Silicon Valley contingent don't end up eating its meat-free lunch.