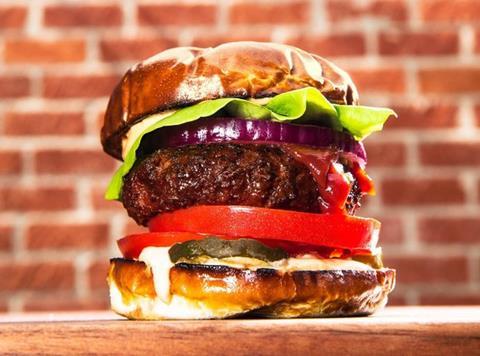 Meat alternative sensation Beyond Meat is a step closer to launching in the UK after securing a distribution deal.

Manchester-based ready meal specialist The Authentic Food Co has finalised an exclusive deal to bring the US brand's Beyond Burger to grocery and foodservice outlets in the UK by August.

As The Grocer first revealed in January, the pea protein-based product will initially be merchandised in the frozen aisle in the UK. It is due to be listed by Tesco initially.

Beyond Meat chairman Seth Goldman has suggested UK retailers would be unhappy at the prospect of selling the burger as fresh after shipping it frozen from its California production plants.

The Authentic Food Co said detail on whether the burger would be sold alongside meat or with vegetarian and vegan meat alternatives was "still to be confirmed".
Beyond Meat added that the focus of its international expansion would initially be on the Beyond Burger. But with the brand recently launching a sausage line in the US, it added consumers may find further products "dependent on the region".
The brand has already secured distributors on the continent, with major meat supplier PHW Group taking on distribution in Germany for the range, which includes sausage, chicken and mince alternatives.

"The partnership is an exciting opportunity for us to bring our flagship product to consumers across the pond," said Beyond Meat founder and CEO Ethan Brown.

Authentic last month partnered with vegan chef Matt Nutter to enhance its plant-based offering and develop an exclusive range in response to the boom in consumers looking to reduce their meat intake.
It supplies ready meals to Iceland, Morrisons and Asda, as well as foodservice customers, and saw sales climb by 50% to almost £74m last year.

"Beyond Meat is a fantastic addition to our range as they are leading the plant-based burger revolution in the US so they already have a great product and brand," said Authentic CEO Nik Basran.

"They have doubled sales in the US in 2017 and are increasing distribution to more than 25,000 grocery stores and restaurants, highlighting the opportunity it presents to our UK customers."

It comes as Waitrose gears up to launch more than 50 new vegetarian and vegan lines from the start of June, including four new SKUs by Dutch brand The Vegetarian Butcher including vegan Chicken Chunks, vegan Chicken Nuggets, vegetarian Mc2 Burgers and vegetarian Little Willies - Lincolnshire style sausage alternatives.

Elsewhere, Vivera's vegan steak, launched in Tesco a fortnight ago, had already sold 40,000 units, the supplier said this week, leading some supermarkets to sell out of the product.