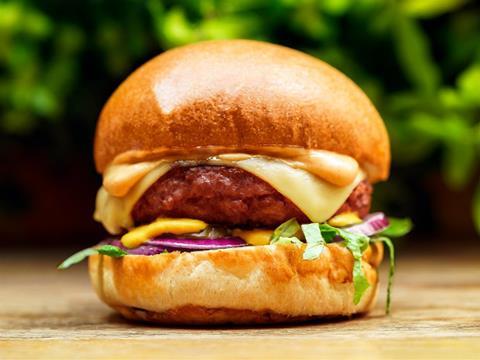 Beyond Meat will launch in the UK at the start of next month, Tesco has confirmed, with the plant-based brand's hit Beyond Burger going on sale across 350 stores in both the frozen and chilled aisles.

The burger will cost £5.50 for a pack of two quarter pounders, making the UK only the second country after the US to stock the product in supermarkets.

Tesco has agreed to stock the products both in its dedicated meat alternative freezers and alongside meat in the chilled aisle in a first for the retailer following the success of the model in the US.

It comes despite Beyond Meat chairman Seth Goldman's concerns earlier this year that UK retailers would be unwilling to sell the US-manufactured burgers as fresh when they had been shipped frozen.

Goldman told The Grocer the brand's existing relationship with Tesco's director of plant-based innovation and executive chef Derek Sarno had been "instrumental" in helping the brand stress the impact that selling the product in the chilled sector had for sales in the US.
"In one California-based retailer, the Beyond Burger outsells meat burgers in the fresh aisle, so it was massively important to highlight the benefits of this placement to retailers," he said.

"We've had to find a way to make it very clear on packaging that the product has been frozen and defrosted, so it has been a fairly long process."

The soya-free burgers are made with protein from Canadian yellow peas, in addition to coconut, potato and beetroot juice, giving them a shelf life of between eight to 10 days chilled and nine months in their frozen format.

The US brand has made "very minor" amendments to its recipe, altering the colourings it uses to make the product EU compliant ahead of plans to launch in retail on the continent later this year.

Tesco has secured the exclusive supermarket rights to sell the product in the UK, having been in talks with Beyond Meat since 2016. The retailer will also include the burgers on menus in a selection of its in-store cafés from tomorrow (4 July), while the Kings Cross branch of restaurant Honest Burger is set to launch a dish including the Beyond Burger from next week (10 July) called The Plant.

Despite its UK launch, the brand's US offer is set to remain streets ahead of its offering on the other side of the pond, as Goldman confirmed Beyond Meat's sausage, chicken and mince alternatives would not be available in the UK "anytime soon".

It comes as the company this week announced the opening of a new factory in Missouri, creating 250 jobs, focused on production of the Beyond Burger.