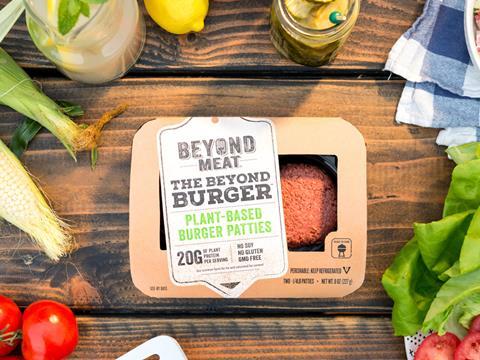 US vegan burger sensation Beyond Meat is reportedly gearing up to go public. According to CNBC sources, the Californian startup has hired JP Morgan, Goldman Sachs and Credit Suisse to lead an initial public offering. The rumours are still unconfirmed, but if they prove to be true, this would be the first public stock offering from the next-generation startups making meat-free products aimed at carnivores.
No one seems keen to speculate on what sort of valuation Beyond Meat would be seeking, but the company has plenty of reasons to feel confident. It has sold 25 million Beyond Burgers since launching in 2016, it claims, and its products are already on sale in more than 32,000 US outlets – with ambitious plans underway for global expansion.
Indeed, Beyond Meat's appeal to the ever-growing army of Earth-minded flexitarians is undeniable and justified. In August, the University of Michigan published a peer-reviewed life cycle analysis that concluded its pea protein-based Beyond Burger uses 99% less water, 93% less land and produces 90% fewer greenhouse gas emissions than a quarter-pounder US beefburger. That same month, Beyond Meat and fellow meat mimicker Impossible Foods were crowned joint winners of the UN's 2018 Champions of the Earth Award in science and innovation.
But if Beyond Meat is considering going public, it might want to have a long hard think about whether it is ready to open itself up to public scrutiny. As The Grocer revealed in August, the much-hyped UK launch of the Beyond Burger – which was scheduled for this summer – has been indefinitely delayed due to "higher than expected" demand in the US. It wasn't the most auspicious start to the company's bid to go global and hints at supply chain teething problems that would be difficult to explain to shareholders who invested on the promise of international expansion.
The IPO process is also very time-consuming and would doubtless distract founder and CEO Ethan Brown's attention away from the day-to-day running of the business. Which could prove a big problem. Because if Beyond Meat delays its arrival in the UK and the rest of Europe much longer, it risks missing the boat altogether.
Inspired by the success of the US startup, manufacturers and retailers this side of the Atlantic are frantically developing their own meat-alternative SKUs – meaning the Beyond Burger is rapidly losing its USP. Iceland's No Bull burger was the retailer's bestselling product over the summer, and the frozen food specialist has just expanded the range to include 13 new meat-alternative lines – with the likes of No Bull Meatballs and No Bull Mince joined by a No Chick and No Porkies Paella.
Meat companies are now clamouring to get in on the plant-based act. Hilton Food Group this week agreed to buy a 50% stake in Dutch vegetarian manufacturer Dalco Food, which the Tesco supplier claims will enable it to "significantly" expand its vegetarian offering.
Others are developing meat products aimed at health-minded flexitarians. Irish meat producer Kepak, for example, has just developed omega-3 enriched beefburgers and a 'Beefroot Burger' blending grass-fed Irish beef with sweet beetroot and crunchy quinoa.
No one can argue with Beyond Burger's success thus far. But the problem with causing such a sensation is that everyone else wants to get in on the act. And if it doesn't get its house in order before it throws its doors open to the public, it could well end up being a victim of its own success.