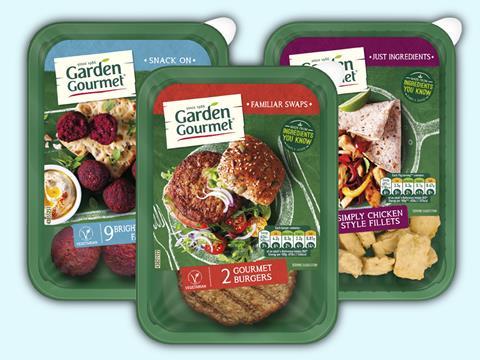 Nestlé is to take a bite out of the booming plant-based meat alternative market by rolling out its Garden Gourmet brand in the UK.

The brand will go on sale in Sainsbury's and Ocado from 27 May, and would offer "delicious and healthy meat-free products for food lovers looking to cut down on meat but not wanting to compromise on taste", Nestlé said.

Garden Gourmet consists of 12 products across four categories: Familiar Swaps, Veggie Creations, Just Ingredients and Snack On.

The lineup includes a variety of frozen and chilled products such as meat-free burgers and mince, beetroot falafels and quinoa and broccoli bakes. More products were already in development, said Nestlé's UK Food Division MD Paula Jordan, who said the brand would "revolutionise the vegetarian category".
The food giant is positioning Garden Gourmet as a vegetarian rather than a vegan brand, as some products contain cheese and are made in Israeli and Czech factories that also use eggs.
Garden Gourmet first launched in Israel in 1986. Nestlé had been an early investor in the company and acquired it in full last year.
It launched in several markets on the Continent in 2016.
"We find that people want to enjoy a healthier diet and try to eat less meat, but they are sometimes disappointed with the taste," said Jordan, who noted Nestlé research that a significant proportion (80%) of new shoppers to the plant-based category left soon after due to issues with availability, taste and texture.

Garden Gourmet offered consumers a "versatile range of delicious meat-free products packed with flavour to make sure there is no need to compromise on taste ever again".

It comes as Nestlé makes a concerted push into plant-based foods and follows the acquisition of California-based meat alternative brand Sweet Earth last year, and an investment in plant-based organic snack maker Terrafertil earlier this year.