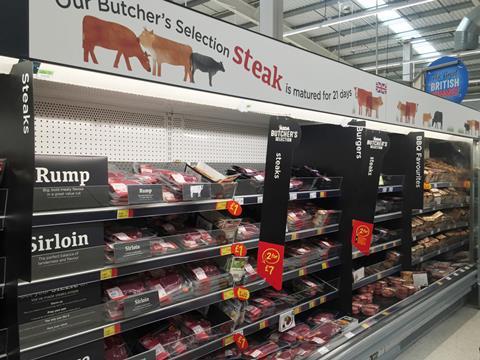 Many supermarkets are 'standing by and doing nothing' while red meat sales fall, and failing to capitalise on opportunities to increase consumption, a new report by AHDB has suggested.
A 'lack of inspiration' in meat aisles meant supermarkets were missing out on opportunities to trade shoppers up to higher value products, said the report, which called on the sector to raise its game.
Despite the rise of meat alternatives and a general decline in red meat sales, there were still numerous opportunities to increase consumption, suggested report author and AHDB head of retail and foodservice engagement Matt Southam.
The report drew on research by shopper behaviour specialists Future Thinking over the summer, which suggested 65% of consumers still planned their meals around meat, with 40% deciding what meat to buy when in store.
'This not only highlights the opportunity to convince the shoppers who arrive without a plan, but also shows the potential to encourage shoppers to mix things up in terms of meats and cuts, when at fixture, by providing more inspiration,' the report said.
Lacking inspiration
However, some 45% of shoppers thought meat displays "currently lack inspiration". This was particularly the case for weekend meals, where "people are still prepared to treat themselves and spend longer to cook and prepare meals", added Southam.
"Some retailers are definitely trialling things to improve engagement," he said. But others were ignoring the meat aisle, with decisions over what to promote often made at a corporate level rather than category level.
Southam said better signage, a better use of promotions, making recipe cards available and improving on-pack imagery could be used to make the meat aisle more attractive to shoppers. This would "bring the convenience, taste and enjoyment factors to life" he said.
Supermarkets should also do more to educate shoppers about on-pack provenance claims, the report suggested. 'Despite quality marks having high recognition, a chance lies in building the understanding of their benefits,' it said.
The likes of Asda, which deployed "lots of recipes and shelf barkers promoting meat" were singled out as among the best retailers, with Tesco, Aldi and the Co-op "close behind", Southam said. However, other supermarkets "barely do anything", he claimed.
British supermarkets could learn from Ahold Delhaize on the Continent, which had "made good use of their meat counters to introduce theatre to meat retailing", such as cooking meal ideas in front of shoppers, Southam suggested.
"Retailers need to look closer at the messaging and imagery used to encourage people to widen their choices for mealtimes," he added.
"They still have an opportunity to influence red meat sales and we know there is a wider message; when people buy red meat they tend to buy higher-value items across the supermarket, so it's a positive thing for retailers."