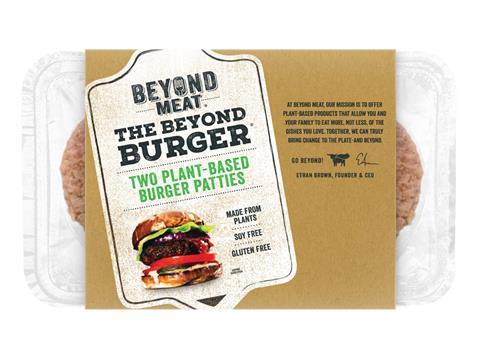 The long-awaited Beyond Burger has finally gone on sale in Tesco, launching in the retail giant's meat chillers today (12 November).
The burger (rsp: £5.50/226g), which is designed "to look, cook and taste like beef" was among the most eagerly anticipated launches of the year, said Tesco prepared foods selling manager Martyn Doble.
Tesco is selling the product in its vegetarian freezers and in the meat cabinet, which is a first for the retailer. Sainsbury's took a similar approach in June, with the debut of Danish meat alternative Naturli's mince in the meat chillers alongside beef, pork and lamb minces.
It comes in spite of concerns Beyond Meat executive chair Seth Goldman voiced earlier in the year that British retailers would be unwilling to stock a product shipped as frozen then defrosted.
"We've had to find a way to make it very clear on packaging that the product has been frozen and defrosted, so it has been a fairly long process," he told The Grocer ahead of the planned retail launch in August.
The initial date was postponed amid concerns over the brand's ability to meet demand, so though the UK had been set to become only the second country after the US to see the Beyond Burger in retail distribution, it was pipped to the post by Australia, which saw several retailers roll out packs earlier this month.
The brand's existing relationship with Tesco's director of plant-based innovation Derek Sarno had been a major factor in convincing Tesco of the impact of merchandising the product in the chilled meat cabinet, said Goldman. The patty had become a bestseller in the US using the strategy, outselling beef and turkey burgers at one southern California supermarket chain, he added.
Made with Canadian yellow peas and beetroot "to lend a meaty red hue", the soya-free burgers also feature coconut oil and potato starch to give the product a similar juiciness and texture to its beef equivalent, said Beyond Meat.
At 20g of protein per burger, the product contains more protein than an equivalent beef quarter pounder, with Tesco's own-label variant containing 16.6g. It also claims less total and saturated fat, alongside a shelf life of eight to 10 days chilled and nine months frozen.
"We believe that this fantastic tasting patty will be a real game changer for anyone considering going vegan or trying a flexitarian diet," added Doble. "The most common reaction from those that have tried it is that they cannot believe it's made from plants."
The burger went into widespread distribution with restaurant chains Honest Burgers and All Bar One at the end of October, following a soft launch in July.