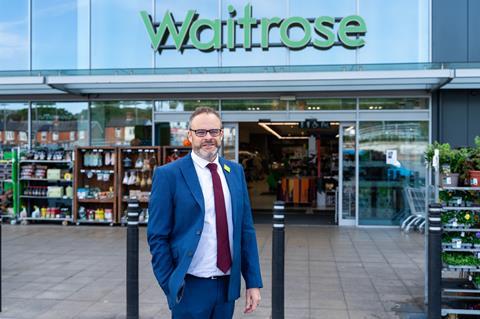 Store: Waitrose Bagshot
Store manager: Robert Renwick
Opened: 2015
Size: 21,000 sq ft
Market share: 11.5%
Population: 265,774
Grocery spend: £7,437,435.87
Spend by household: £71.13
Competitors: 57
Nearest rivals: Aldi 3.4 miles, Asda 5.1 miles, Co-op 0.5 miles, Iceland 5.1 miles, Lidl 2.5 miles, M&S 0.5 miles, Morrisons 3.4 miles, Sainsbury's 1.8 miles, Tesco 3.2 miles, Waitrose 3.4 miles
Source: CACI. For more info visit www.caci.co.uk/contact. Notes: Shopper profiling is measured using Grocery Acorn shopper segmentation. Store catchment data (market share, population, expenditure, spend by household, competition) is within a five-mile radius.
For CACI's shopper segmentation of the other stores we visited this week see the online report at www.thegrocer.co.uk/stores/the-grocer-33
How long have you been with Waitrose? I've been with Waitrose now for just shy of 23 years. I started when I was at university down in Southampton. I did the management training in 2003 and I haven't really looked back. I've been all over the south coast now – Bagshot is the furthest north I've been, and I've been here for five months.
So you're relatively new to the store, how are you finding that? It's a great place to be. I was in Basingstoke before, as deputy branch manager, and this is my first stint as branch manager. The team here are amazing. They're fiercely proud of their shop, they're fiercely proud of their presentation and how they interact with their customers. I'm really enjoying being here with them.
What do you think is the most challenging thing about becoming a store manager? It's the fact that it's all on you. I don't have a deputy manager here so I'm on my own in the branch without someone above me. It's a lot of accountability and responsibility, but I'm really enjoying that. I can take the store in my own direction, I'm able to put that little bit of me into it.
What direction are you looking to take the store in? I think I'm quite a simple shopper. I like to be able to get into the supermarket, get exactly what's on my list, and have a pleasant interaction with anyone who I come across. I think that's essentially what I try to deliver. It's ultimately about availability for me and that's why customers come shopping. I like to consider myself a bit of a shopping ninja – in and out – whereas my wife, she's there interacting with everyone, talking about meat at the counter. It's about tailoring what you do to suit everyone's requirements.
What are your customers like? I'd say Bagshot is a relatively affluent area. It's what I would call a good Waitrose customer area.
What kind of green offering do you have in store? I'm quite impressed with our organic range here. Certainly from a fruit & veg perspective we've got a really good assortment. And it does sell well in the Bagshot area. When it comes to vegetarian and vegan products, we launched that layout maybe 12 months ago, and it's just growing. We're pulling more and more products into it.
How have green shopper habits changed with the cost of living crisis? We've certainly seen the response to the cost of living crisis, with an increase in people buying into our Essential range. But I think the people who love organic food and the people who buy sustainable products stay with it because it's part of their DNA. People who are committed stay committed.
All our stores struggled with availability this week, including the organic broccoli and blueberries, which were out of stock in Waitrose. Do you know why that might be? Without looking into those specifics, I don't think I could really comment on it. Something I am quite insistent on with the team is ensuring we're maintaining availability.
What's a favourite product of yours in store? It's such a basic line, but I love our stone-baked baguette. If I ever get sent to pick up lunch, that's exactly what I'm having. I also love our Essential hand-cooked crisps. That's me. I'm all about lunch with the nice cheese.