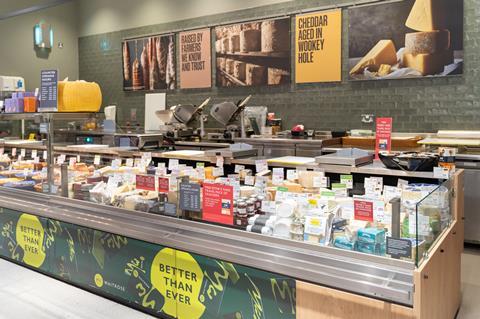 First place went to Waitrose Bagshot this week with 67 points, but poor availability across the board was the main finding from this green mystery shop.
Every retailer scored zero marks on availability and there were high numbers of out of stock and not-stocked items.
The Violife cheddar alternative was not stocked in four of the five stores – with Asda the only exception to the rule.
The Swedish Glace dairy-free Ice Cream was not stocked in the Morrisons or Tesco branches, despite being available online.
And each of our five stores had out of stock items.
At our winner Waitrose, the organic blueberries and broccoli were out of stock, as well as the plastic-free baby wipes and Tofoo Co tofu.
However, Waitrose redeemed itself through excellent store standards and shop floor service. On entrance, our shopper was impressed by the display of wine and fresh-cut flowers, as well as two well-kept customer coffee machines.
Several staff members were also on hand to advise on fruit and veg stock.
Second place went to Morrisons Bridport with a score of 60. The floor layout was logical with helpful signage, and click & collect was visible. The food-to-go section and counters were also neatly displayed.
There was a spill within the store however, and store standards were only average.
On the availability front, the organic blueberries, Quaker porridge sachets and This Isn't Streaky Bacon were out of stock.
Tesco Blackburn came in third place with 47 points.
Our shopper's first impressions were lacklustre. Store standards were average, and there were several empty sections – food to go was depleted – but stock was being replenished.
The checkout experience was a redeeming feature, with no queue and a helpful assistant.
The grapefruit was the only item out of stock, but nine were not stocked.
Bringing up the rear were Asda Llansamlet and Sainsbury's Oldham in joint last place with 40 points each.
Asda made a poor first impression as no trolleys were available at the front of the store. Our shopper had to trawl the trolley return bays in the car park, which was littered, and other shoppers were also experiencing problems.
Inside the store, the entrance was filled with sale rails, with lots of items on the floor.
"This was a nightmare shop for me," said our shopper, who had lots of issues locating items – and even the staff didn't seem to know where things were. The aisles seemed to have been re-arranged recently and the signage was incorrect.
Finally, there was an extremely long wait at the tills of over 10 minutes. Only four were manned, all with queues that were obstructing the aisles.
Asda also had the most out of stock items. The Alpro dessert, Cafédirect organic coffee, Graze Peri-Peri Crunch, This Isn't Streaky Bacon and plastic-free Little Soap Co soap were all unavailable in this Sunday lunchtime shop.
Sainsbury's, meanwhile, suffered on shop floor service. When asked for help, staff simply told our shopper that what they had was out on the shelves.
The layout was not particularly intuitive and our shopper had to wait four to five minutes for a checkout.
Sainsbury's also had the most items unavailable this week: 13 were not stocked and one was out of stock, the organic own-label milk.